This super-charged, full-flavour flatbread is the perfect low-calorie and low-carb meal
If you are in the mood for something a little different, well, you've come to the right place. These timeless, Asian flavour combinations all work together brilliantly on top of our Original Lo-Dough Base. 
As well as our chosen surf and turf toppings (pork and prawns... with mushrooms and spring onions for good measure!') we've got a couple of lesser-well-known ingredients from the Chinese ingredient section of the supermarket; chilli bean paste and fermented black beans. Both are packed with an amazing, salty/umami flavour that just gets your mouth watering.
All this is low-carb and low-calorie, not to mention, high fibre when made with Lo-Dough.
Ingredients
Serves 1
1 Original Lo-Dough Base
30g chilli beancurd sauce
80g roast pork shoulder, chopped
50g raw prawns, chopped
50g mushrooms, chopped
15g black beas
1 spring onion, finely sliced
Coriander (for garnish)
What you'll need
This diet-friendly recipe is possible with:

Original Lo-Dough Bases
Regular price
from £3.49
Out of stock
Method
Preheat your oven to 250°C/475°F/Gas 9.
Spread the chilli beancurd sauce over Lo-Dough base, smooth side up, taking it right to the very edge.
Place the other ingredients on top, distributing evenly.
Cook in the preheated oven for approx 5 minutes or until the prawns have turned pink.
Slice, garnish with the coriander and serve.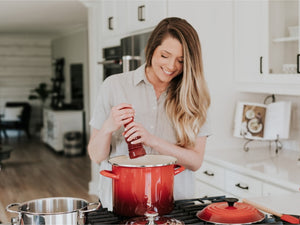 Hungry for more recipes?
Join over 200,000 subscribers in receiving new recipes, tips, offers and a whole lot more.