Lo-Dough brings to you -  the 66 calorie Bakewell cake. A beautiful, light almond-flavoured sponge, icing, jam and the cherry on top - for just 66 calories. One piece of Lo-dough makes three cakes and one cake would make the perfect mid-morning treat.
See image below for how we set up our baking tin:
Slimming, dieting or just generally being conscious with your healthy eating is really easy when you switch to Lo-Dough. You can say goodbye to all of the restrictions and put your favourite food, including amazing desserts like this one, back on the menu.  
Low Calorie Dessert Recipes with Lo-Dough
The sweetest thing about this super healthy dessert is that it's way better for you than it looks. The Lo-Dough alternative makes is actually high in fibre and protein as well as good on the old waistline. And we challenge you to tell us it's not absolutely melt-in-the-mouth delicious.
Our thousands of Lo-Dough users swear by these nutritional, low calorie alternative meals. Whether you are slimming for focused on your fitness and nutrition, going Lo-Dough can be a real game changer.
Ingredients
Serves 3
1 piece of Lo-Dough, blitzed to fine crumbs
20g Sukrin sweetener (or any good baking sweetener of your choice)
1 large egg, beaten
40ml of milk
A few drops of almond extract/essence
A tablespoon of icing sugar, mixed with a teaspoon of water
A table spoon of reduced sugar jam
One and a half glace cherries
What you'll need
This diet-friendly recipe is possible with:

Original Lo-Dough Bases
Regular price
from £3.49
Out of stock
Method
Preheat your oven to 220C/428F/Gas 7.
Add the eggs, milk, sweetener and 2-3 drops of almond extract/essence into a bowl and beat with a whisk. Add the Lo-Dough crumbs and combine.
If using a standard 8 inch tin, you will need to make an extra wall made out of tin-foil - this mix will fill roughly a third of an 8-inch square tin. Otherwise a small loaf tin or any small tin may be suitable (your Bakewells can be any shape, as long as the are roughly 1.5cm/half and inch thick.).
Fill the chosen tin and bake for 10 minutes.
Leave to cool on a rack and then carefully take out of the tin, remove the foil and greaseproof paper and cut into 3 squares. Top with a thin layer of jam and a small blob of icing on each. Finish with half a glacé cherry.
🍽 Serving suggestion
Sprinkle your cakes with lightly toasted, flaked almonds for a little extra flavour and texture and only a few extra calories.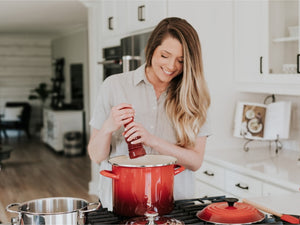 Hungry for more recipes?
Join over 200,000 subscribers in receiving new recipes, tips, offers and a whole lot more.