Low-Calorie Wraps Made With Lo-Dough Are Your Low-Carb Saviours!
Check out this Banh Mi wrap - usually a sandwich made with thick white bread, adding stodge, empty carbs, and little else, nutritionally speaking. Swap it out for Lo-Dough and what you gain is 9.3g of fibre for a 2.2g carb wrap. 
Flavour-wise, this one is awesome. Quick pickled veg, paté (we used Eatlean's new low-fat version, but any would be fine), chicken, mayo, sriracha and loads of fresh herbs - it's a party in your mouth kind of sandwich!
You can buy pickled veg quite easily and just spruce them up, but making your own is easy - simply mix equal parts vinegar and water and add sweetener and salt to taste. Slice your veg and add them to the pickle. Add aromatic ingredients like chillis, garlic, ginger and corriander stalks and lime zest to give it plenty of flavour. 
Ingredients
Serves 1
1 piece of Lo-Dough
70g of cooked chicken breast
70g of pickled veg
70g of pickled veg
40g of chicken liver paté (we used Eatlean's Chicken Spreader)
A tablespoon of mayonnaise
A good squirt of Sriracha sauce
A few sprigs of fresh coriander
A few sprigs of fresh mint
What you'll need
This diet-friendly recipe is possible with:

Original Lo-Dough Bases
Regular price
from £3.49
Out of stock
Method
Use a rolling pin to flatten down your piece of Lo-Dough. Spread about 40g of pate in a stripe across your Lo-Dough.
Arrange all the ingredients on the wrap, finishing everything off with the mayo and the Sriracha.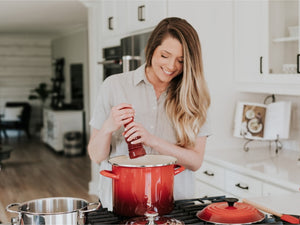 Hungry for more recipes?
Join over 200,000 subscribers in receiving new recipes, tips, offers and a whole lot more.