This low-calorie version of a takeaway classic tastes just as good... without the carbs and sugar-laden sauce!
BBQ chicken pizza is a modern classic, but a struggle for people counting calories. The lean chicken is healthy enough, but the base and the sugary BBQ sauce usually send the calorie count rocketing. 
Well now, thanks to our fellow northerners Blend Bros Smokey BBQ sauce and a Lo-Dough base, our take on the BBQ Chicken pizza clocks in at 314 calories for the lot. The sauce is balanced and far truer to the flavour of southern BBQ than the usual, over-sweet, commercial BBQ sauce - For our money, this was tastier than any takeaway version we'd tried. 
For more pizza inspiration, check out our recipes here.
Ingredients
Serves 1
1 piece of Lo-Dough, lightly fried with spray oil in a pan
75g of BBQ chicken breast slices (cooked)
20g of thinly sliced red onion
20g of thinly sliced pepper
1 heaped tbsp of passata
1 heaped tbsp of Blend Bros Smokey BBQ sauce (plus a little extra to garnish)
60g of light mozzarella, cut into thin slices
A few finely chopped spring onion tops to garnish
A twist of black pepper
What you'll need
This diet-friendly recipe is possible with:

Original Lo-Dough Bases
Regular price
from £3.49
Out of stock
Method
Preheat your oven to 250°C/475F/Gas 9.
Mix the passata and BBQ sauce and spread across the Lo-Dough in a thin layer, right up to the edge.
Spread half the cheese on top of the sauce and add the chicken, pepper and onion. Add the other half of the cheese and then put the pizza in the oven for 7 minutes or until golden and bubbling.
Serve with a crack of black pepper and the spring onions on top... and a few blobs more of the BBQ sauce.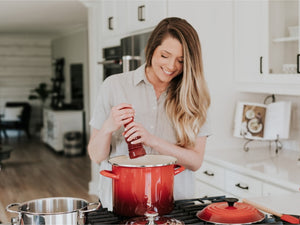 Hungry for more recipes?
Join over 200,000 subscribers in receiving new recipes, tips, offers and a whole lot more.