BBQ isn't just about the meat - Grill up some veggies too and use any leftovers on this incredible low calorie pizza!
When the sun's out, there is nothing better than a good old barbecue. But, many people forget the veg. Charred up veg are delicious, nutritious and perfect to serve alongside or instead of meat. 

If looking to keep your BBQ meals low-calorie and low-carb, replace any bread element of the meal with Lo-Dough. And if you find yourself with any leftovers, throw them on a pizza!

Fold and roll like we've done for an easier, portable outdoor eat! 
Ingredients
Serves 1
1 piece of Lo-Dough
30g of passata
70g of grated mozzarella
10g of barbecued sweetcorn
15g of barbecued red pepper
15g of barbecued aubergine
15g of barbecued courgette
What you'll need
This diet-friendly recipe is possible with:

Original Lo-Dough Bases
Regular price
from £3.49
Out of stock
Method
Preheat your oven to 250°C/475F/Gas 9, or get your BBQ hot.
Spread the passata across the Lo-Dough in a thin layer, right up to the edge.
Spread the grated cheese over the passata and add the bbq veggies on top. Put the pizza in the oven (or on a pizza stone and into a closed BBQ) and cook for 7-10 minutes or until golden and bubbling.
Serve with crack of black pepper if desired.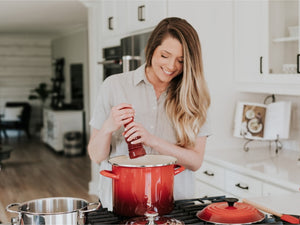 Hungry for more recipes?
Join over 200,000 subscribers in receiving new recipes, tips, offers and a whole lot more.