A warming low-calorie family meal, these enchiladas will spice up mealtimes for everyone
On a cold day, nothing beats a big hot sharing meal placed in the middle of the table that everyone can dive into. Not only that, but meals like that almost always mean leftovers - perfect for keeping in the fridge/freezer and bringing out to heat up at your convenience.
By swapping the tortillas for Lo-Dough, you are slashing the calories and decimating the carbs of a meal that is normally quite high in both. What doesn't change one bit is the flavour - and that's the beauty of Lo-Dough; you can enjoy the amazing taste of your favourite meals while making them significantly healthier. 
Easy Enchiladas
This is a simple recipe - you can use pre-packed spice mixes and or sauces if you like (just watch out for hidden sugars, etc), or you can make the sauce from scratch. Then, simply roll up in Lo-Dough, top with cheese and bake!  
Ingredients
Serves 4
For the filling
4 pieces of Lo-Dough 
200g of lean mince beef
1 small onion, sliced 
1 small red pepper, sliced 
150g of mushrooms, sliced
Half a sachet of enchilada spice mix
Salt & pepper 
A few sprays of oil 
For the sauce 
150g of passata
Half a sachet of enchilada spice mix
Salt and pepper
To top
Method
Preheat your oven 200C/Gas 6.
Add all your filling ingredients to a baking tray and mix well to ensure everything is coated in the oil and spice. Bake for 25 minutes, or until the beef is cooked. Remove and allow to cool.
Mix the sauce ingredients together.
Roll out your Lo-Dough so they become a little thinner. Add half the filling mix and roll it up. Repeat with the other Lo-Dough bases and the remaining filling.
Take a tight fitting baking dish and add half the sauce. Place the four wraps in side by side (fold side down to make sure they stay shut).
Add the remaining sauce and cheese on top - ensure the wraps are well covered. Place in the oven and cooking until golden and bubbling - this should take approx 20-25 minutes.
Serve alongside some salad and any accompaniments of your choice (guacamole, sour cream, salsa, jalepeno peppers, coriander etc).
Play around with the fillings. Go all veggie and use a mince meat replacement if desired for a healthy, even lower calorie enchilada.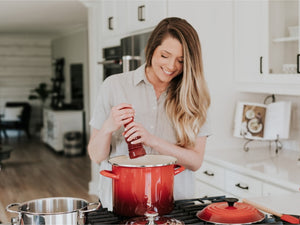 Hungry for more recipes?
Join over 200,000 subscribers in receiving new recipes, tips, offers and a whole lot more.