Reduced carb & calorie celebration cake? Look no further! 
We've taken the flavours of a classic black forest gateau and turned our brownie mix into something very special indeed. 
By baking the mix in a 15cm/6-inch circular tin, the resulting brownie will be thick enough to cut in half through the middle and turn into two sections of a cake.
You might be able to find low sugar cherry jams, but it's as easy to make your own - we just boiled down half a tin of cherries with a touch of erythritol and then thickened it with cornflour - no more sugar added! 
Finally, we added cream, chocolate and fresh cherries to complete this beautiful cake!
Ingredients
Serves 8
1 pack of Lo-Dough Brownie Mix
200ml of whipping cream
The seeds from a vanilla pod
90g of chocolate (plus a fewg more for decorating if desired), broken into pieces
½ a tin of cherries
20-30g of erythritol sweetener
2 teaspoons of cornflour
7-8 fresh cherries
What you'll need
This diet-friendly recipe is possible with:
Lo-Dough Brownie Mix
Regular price
£5.59
Out of stock
Method
Make the Lo-Dough Brownie Mix as per the packet instructions.
Add the mix to your lined 6-inch circular tin, and bake for 25 minutes at 190C. Once baked, allow to cool.
While the cake bakes make your jam and your ganache. For the ganache, simply add 100ml of cream and the chocolate into a a bowl, microwave for one minute and stir. Continue until mixed and allow to cool.
For the jam, take a pan and boil the cherries and juice with the erythritol for a few minutes until reduced a little. Then add in the cornflour and thicken to a thick consistency. Allow to cool.
Once cool, slice the brownie cake in half and fill with the jam and 100ml of whipped vanilla cream.
Add the ganache over the top and decorate with fresh cherries. You can grate extra chocolate over to decorate if desired!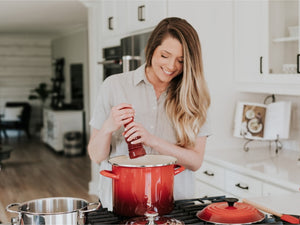 Hungry for more recipes?
Join over 200,000 subscribers in receiving new recipes, tips, offers and a whole lot more.