Low Calorie Mug Cakes for a Filling Breakfast 
These blackberry and raspberry mug cakes are deliciously low in calories and make for a substantial breakfast dish, snack or even an evening treat.
Since culinary-superstar and slimming food-blogger Debs (@slimmingworlddebsx) switched us onto them, the team at Lo-Dough have fallen head over heels in love with Lo-Dough mug-cakes.
Prepped in just a few minutes and cooked in even fewer, these redefine the meaning of fast food. Super low calorie and low-carb too, these fruity beauties can be served as an early morning pick-me-up or an indulgent, sweet evening-treat.  
Why not take the pre-prepared mix into the office (just put the wet mix into a Tupperware pot), transfer to a mug, microwave for two minutes and then head back to your desk to be the envy of all your colleagues? 
Looking for more dessert ideas? Try the blueberry cheesecake 
Ingredients
Serves 1
1 piece of Lo-Dough, blitzed to fine crumbs
100g of lightly crushed black berries and raspberries
1 large egg, beaten
1 tbsp of fat free yoghurt or milk
2 tbsp of sweetener
What you'll need
This diet-friendly recipe is possible with:

Original Lo-Dough Bases
Regular price
from £3.49
Out of stock
Method
Add all the ingredients to a bowl and mix well.
Put into a mug of your choice and cook in a microwave for 2-3 minutes (microwaves vary). The cake should feel 'just' cooked to the touch.
Take out and leave to stand for a further minute before turning out onto a plate.
Serve with yoghurt for breakfast or low fat crème fraîche and raspberry sauce for an indulgent pud.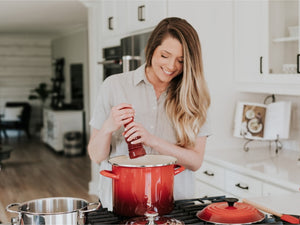 Hungry for more recipes?
Join over 200,000 subscribers in receiving new recipes, tips, offers and a whole lot more.