Low calorie breakfasts have never been sweeter! 
These fruit-packed muffins are the perfect breakfast treat. For the ultimate, low-carb, low-calorie muffins, keep them plain. Trust us, our vanilla mix combines with the fruits to create moist, sweet, filling blueberry and vanilla breakfast cakes.
If you are feeling a bit fancy, feel free to decorate. They are great with yoghurt or cream cheese frosting - the caloric leeway is certainly there for you to indulge! 
At breakfast or at any time of the day, we guarantee you these muffins will hit the spot.
Note: You can make these, hassle-free in a silicone muffin tray. If baking in a tin or in muffin papers, we recommend greasing with a little spray-oil. We've taken all the fat out of the cake mix itself, so they can stick a little if not greased.
Ingredients
Serves 6
1 Lo-Dough Vanilla Sponge Mix
240ml water
100g blueberries
Method
Preheat your oven to 180°C/Gas 4.
Make up the Vanilla Sponge Mix with the 240ml of water as per packet instructions.
Stir through the blueberries and divide into 6 paper muffin cups in a muffin tin or a silicone muffin mould.
Bake for 30 minutes or until lightly golden. Allow to cool for at least 15 minutes before serving. Delicious warm or cold, plain or decorated.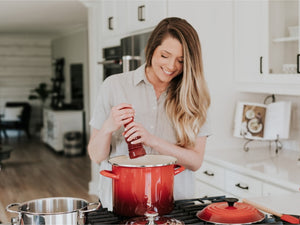 Hungry for more recipes?
Join over 200,000 subscribers in receiving new recipes, tips, offers and a whole lot more.