This is a seriously hearty low-calorie breakfast recipe, perfect for a weekend morning!
Nothing beats a cooked breakfast, but for something a little different, why not serve it up as a Lo-Dough enchilada. Fill your Lo-Dough with grilled breakfast items and roll up. Top with passata and cheese and repeat for as many servings as you like. Bake briefly to melt the cheese and hey presto - you've got a delicious, low-cal, low carb, high-fibre breakfast that tastes out of this world!  
Ingredients
Serves 1
1 Lo-Dough Base
2 pieces lean bacon
2 heck chicken sausages
4-5 button mushrooms, halved
1 salad tomato, halved
70g of passata
50g of mozzarella
What you'll need
This diet-friendly recipe is possible with:

Original Lo-Dough Bases
Regular price
from £3.49
Out of stock
Method
Preheat your oven 200C/Gas 6 and turn on your grill.
Add all your fillling ingredients (bacon, tomato, mushrooms and sausages) and grill until cooked.
Roll out your Lo-Dough so they become a little thinner. Add the grilled ingredients and roll it up.
Take a tight fitting baking dish and add half passata. Place your filled Lo-Dough on top and then pour the other half of the passata and the cheese on top - Place in the oven and cook until golden and bubbling - this should take approx 15-20 minutes.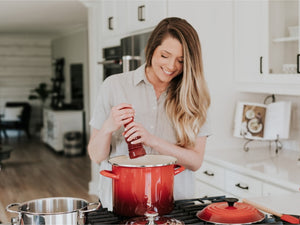 Hungry for more recipes?
Join over 200,000 subscribers in receiving new recipes, tips, offers and a whole lot more.