Breakfast Fritters the Healthy Way
If breakfast truly is the most important meal of the day then surely the challenge is to make it as tasty and satisfying as possible, but with the lowest possible calories and carbs.
Well, challenge accepted.
Introducing: Breakfast fritters made with Lo-Dough. Serve alongside any combination of your breakfast favourites for a filling, but surprisingly low-calorie and low-carb meal, which is a regular thing for our thousands of Lo-dough fans. Start your day the Lo-Dough way.
Breakfast Fritters Loved Worldwide
A fritter is a savoury or sweet, fried food usually consisting of a portion of batter or breading which has been filled with bits of meat, seafood, fruit, vegetables or other ingredients. 
The batter-frying technique was introduced into Japan by the Portuguese and Spanish in the late 16th century; the tempura that developed, a mixed fry of shrimps, herbs, and vegetables, has been totally incorporated into the cuisine.
Don't forget that it's National Fritter Day on 2 December
Ingredients
1 piece of Lo-Dough, blitzed to a crumb
1 large egg, beaten
½ an onion
1 small clove of garlic
30g ricotta cheese
Chopped fresh herbs (we used a teaspoon each of thyme, parsley and chives)
6 sprays of fry-light
Salt & pepper
What you'll need
This diet-friendly recipe is possible with:

Original Lo-Dough Bases
Regular price
from £3.49
Out of stock
Method
Oil a pan with 3 sprays of fry-light and soften the onion gently for a 10 minutes. Allow to cool.
While the onions fry, add your Lo-Dough, egg, cheese, herbs and seasoning to a bowl and mix. Once cooled, add the onions too. If you like things spicy, you can add a little chilli. Customise as you like.
Shape the mixture into two fritters and using the remaining sprays, gently fry the fritter on both sides until golden brown and cooked through (for approx. 3 minutes per side).
Serve with any of your breakfast favourites.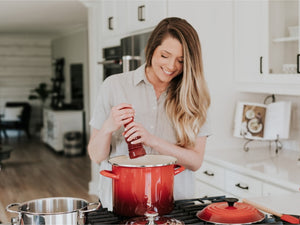 Hungry for more recipes?
Join over 200,000 subscribers in receiving new recipes, tips, offers and a whole lot more.