Low Calorie Chapatis for a Spicy Feast
What can you not make with Lo-Dough? Being able to rustle up these superb low-calorie chapatis was a proud moment , as Lo-Dough has developed from pizza bases & wraps to these delicious Indian "bread" that can be used in countless ways.
Being able to enjoy a spicy Indian curry without the guilt of chapati bread has been a delightful experience for Lo-Dough explorers who don't want to give up delicious food whilst dieting. 
These are are also a great low-carb and low calorie replacement for the usual rice and naan combo; this chapati is 1/3 of the calories of the naan alone.
This is a really adaptable recipe - spice your chapatis up just the way you like them.
What about after dinner? Take a look at the Lo-Dough low calorie dessert recipes 
Ingredients
1 piece of Lo-Dough
1 clove of garlic, crushed
A pinch of cumin/coriander/turmeric/chilli flakes
Sliced chilli pepper (as much or as little as you like!)
Small bunch of chopped coriander
2 teaspoons of butter
What you'll need
This diet-friendly recipe is possible with:

Original Lo-Dough Bases
Regular price
from £3.49
Out of stock
Method
Heat up the butter in a frying pan on a medium heat.
Add the piece of Lo-Dough and turn in the butter a couple of times to ensure it's well coated.
Continue to fry for a couple of minutes until it begins to lightly brown.
Add the garlic and a pinch each of your favourite spices. Keep turning the Lo-Dough over in the pan for another minute or two while it gets coated in the spices and continues cooking.
Serve with a few sprinkles of fresh chilli and Coriander and a further pinch of your chosen spices.
Try with low fat yoghurt & mint raita and your favourite curry.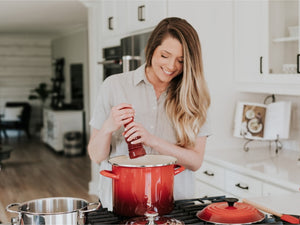 Hungry for more recipes?
Join over 200,000 subscribers in receiving new recipes, tips, offers and a whole lot more.