This Lebanese fatteh is a flavour and texture sensation
Every world cuisine has uses for bread that is slightly best its best and this is no exception to that rule. Whereas the original version would have toasted pitta bread running through it, we've gone with torn pieces of Lo-Dough instead to keep the carbs and calories super low. That one simple change, using our low-carb bread replacement makes a huge difference to the nutritional composition of the dish. 
This a fantastic low calorie, high protein main meal... packed with fibre and probiotics in the form of live yoghurt. If you want to go veggie, lose the chicken, up the aubergine and maybe add a few more chickpeas to keep some of the protein in there. 
Ingredients
Serves 2
1 piece of Lo-Dough, cut into 2cm squares
2 chicken breasts, skinless
1 small aubergine, cut into 1cm thick half moons
100g of chickpeas
20g of pine nuts, toasted
A good pinch pinch of smoked paprika
A good handful of fresh parsley, finely chopped
1 clove of garlic, sliced
A few sprays of 1 cal spray
For the sauce
100ml of yoghurt
1 clove of garlic, crushed
Salt & pepper
What you'll need
This diet-friendly recipe is possible with:

Original Lo-Dough Bases
Regular price
from £3.49
Out of stock
Method
Fill a pan with water and add your chicken breasts. Season and add any other aromats you may want to help flavour the chicken - herbs, garlic, spices etc. This is really up to you. Bring to the boil, then allow to simmer for approx. 12-15 minutes. The chicken will stay warm in this stock for a long time allowing you to finish the meal. Note - retain the stock.
Spray your aubergine with the oil and griddle until charred and cooked through.
In a hot oven, bake the Lo-Dough with the sliced garlic, some spray oil and a pinch of paprika until lightly golden and crisp. Keep these back to garnish the dish.
Warm up the yoghurt sauce ingredients - adding a couple of table spoons of your chicken stock to loosen.
Take the chicken out of the stock and shred. Bring this together with all the other ingredients (hot and cold) and dress with the yoghurt sauce. Garnish with the crispy Lo-Dough croutons, a few more toasted pine nuts and sprinkle of parsley.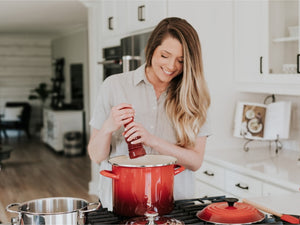 Hungry for more recipes?
Join over 200,000 subscribers in receiving new recipes, tips, offers and a whole lot more.