Takeaway Pizza Mash-Up For Less Than 300 Calories?
Yeah, we know that not every food/cultural mash-up works, that fusion can sometimes become confusion, but you are just going to have to trust us when we say that this Indian/Italian pizza hybrid is a total winner. 
Occasionally, things like this show up on the radar when having a post-pub feast, but we guarantee that you won't have had a late-night pizza like this before. Tikka chicken, cheese, curry sauce, the lot - all for under 300 calories.  
Sourcing The Sauce.
Our friends in the North, Nowt Poncy, supplied us with a curry sauce to try and we must say, it's completely delicious and made total sense on this particular pizza. Check them out here.
If you don't have Nowt Poncy's curry sauce to hand, you could try it with a tomato passata and it would still be good, but it just wouldn't be quite as good...
For more Lo-Dough pizza recipes, click here.
Ingredients
1 piece of Lo-Dough, lightly fried with spray oil in a pan
75g of chicken tikka breast slices (cooked)
2 heaped tbsps of Nowt Poncy Curry Sauce
15g of red onion, sliced
60g of light mozzarella, cut into thin slices
A few sprigs of chopped coriander
A twist of black pepper
What you'll need
This diet-friendly recipe is possible with:

Original Lo-Dough Bases
Regular price
from £3.49
Out of stock
Method
Preheat your oven to 250°C/475F/Gas 9.
Spread the curry sauce across the Lo-Dough in a thin layer, right up to the edge.
Spread half the cheese on top of the sauce and add the chicken and onion. Add the other half of the cheese and then put the pizza in the oven for 7 minutes or until golden and bubbling.
Serve with a crack of black pepper on and the coriander on top.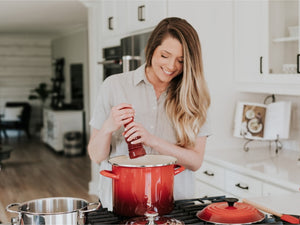 Hungry for more recipes?
Join over 200,000 subscribers in receiving new recipes, tips, offers and a whole lot more.