This Southern Fried Chicken & Waffle Combo Can Be Made Low-Calorie With Lo-Dough
This soul food classic CAN be made low-calorie, low-carb and incredibly high in fibre (2 thirds of your daily recommended intake!)... you just need to make it with Lo-Dough!
If you haven't tried this before, trust us when we say it works amazingly. Crispy, juicy on the inside chicken, slightly sweetened waffles and a good drizzle of syrup (we use a widely available zero-sugar and zero-calorie brand of course!) make for something truly beautiful to eat.  
If you fancy food that's good for your soul that won't pile on the calories and carbs, give this one a go.
Ingredients
Serves 1
For the waffles
1 piece of Lo-Dough, blitzed to fine crumbs
1 large egg, beaten
3-4 teaspoons of sweetener
A little vanilla paste
40ml of milk
Approx 40ml of water (or enough to loosen the batter to a thick pancake patter consistency)
Half a teaspoon of baking powder
For the Chicken
2 skinless thighs or one skinless chicken breast cut into two pieces
1 piece of Lo-Dough
1 egg, beaten
A heaped teaspoon of cajun spice
Low-cal spray oil
Salt & pepper
What you'll need
This diet-friendly recipe is possible with:

Original Lo-Dough Bases
Regular price
from £3.49
Out of stock
Method
Preheat your oven to 220C/Gas 8.
Micro wave your Lo-Dough for two minutes, then blitz to a crumb. Add the crumb to the spices with some salt and pepper. Coat your chicken pieces in the egg then shake in the crumb until well coated. Repeat for an extra thick coating.
Cook in the oven on a rack for approx 25-30 minutes.
Now make the waffles. Add all the waffle ingredients to a bowl and mix well.
Pour into your mould.
Cook in the oven for 15-20 minutes. To improve the crispness of the outside of the waffle. Take out of the mould after 15 minutes and cook on the other side for the last 5 minutes.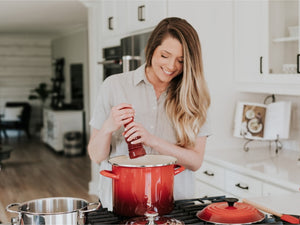 Hungry for more recipes?
Join over 200,000 subscribers in receiving new recipes, tips, offers and a whole lot more.