Our low-carb/low-sugar chocolate cake is pure luxury - trust us, you'll want this in your recipe library!
If you like chocolate, then in all likelihood you like chocolate cake! Unlike most chocolate cakes, ours is not filled with carbs and sugar, but still wonderfully rich and sweet, making it the ultimate reduced calorie cake.
It's easier to make than any other cake too, as the cake part comes from our Brownie Mix - just add water and bake. The rest is just decoration! 
At little over 200 kcal and just 7g sugar per piece, this is the ultimate, indulgent cake for dieters of all stripes.
Ingredients
Serves 8
1 pack of Lo-Dough Brownie Mix
150ml of whipping cream
30g of cocoa
45g of 70% dark chocolate, broken into pieces
A further 20g of decorative shaved chocolate - dark and white
What you'll need
This diet-friendly recipe is possible with:
Lo-Dough Brownie Mix
Regular price
£5.59
Out of stock
Method
Make the Lo-Dough Brownie Mix as per the packet instructions.
Add the mix to your lined 6-inch circular tin, and bake for 25-30 minutes at 190C. Once baked, allow to cool.
While the cake bakes make your chocolate cream by whipping the cream with the cocoa.
Melt the 45g of dark chocolate for the topping.
Once cool, slice the brownie cake in half and fill with cocoa cream. Place the lid on and gently press together.
Add the dark chocolate on top of the lid, spreading with the back of a spoon if necessary. Add the mixed chocolate shavings as a final decorative flourish.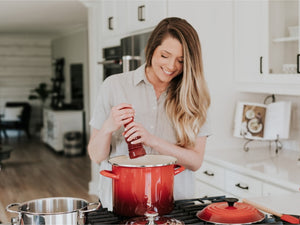 Hungry for more recipes?
Join over 200,000 subscribers in receiving new recipes, tips, offers and a whole lot more.