Chocolate Cheesecake Without The Calories? You'd Better Believe It...
Making cheesecake with Lo-Dough is incredibly easy. First off, make the crumb. Add some Lo-Dough crumbs, some butter and some sweetener/syrup into a pan and cook over a medium-high heat until golden brown. 
Make up the cheese mix according to your diet. 
- For slimming, use a combination of light soft cheese and quark. You might light to add a leaf of gelatine to this as it will be a softer set than normal. 
- For a keto cheesecake, go with full-fat soft cheese and mascarpone.
Stir in a little sweetener (we use powdered erythritol), cocoa and a small drizzle dark or milk chocolate as per your preferences - darker chocolate will generally have less sugar. Mix well, put on top of your crumbs and leave in the fridge to set for an hour or two. 
Simple Dessert Ideas
That's it. Less than 10-15 minutes effort and a low-fat/low-sugar/low-carb dessert is all yours. It's also an economical use of your Lo-Dough as 1 piece will give you 2 cheesecakes. 
We urge you to give this one a try, but for countless other Lo-Dough desserts, have a look here. 
Note - Recipe below is for the slimming cheesecake option
Ingredients
Serves 1
For cheesecake
½ piece of Lo-Dough
1 teaspoons butter
1 teaspoons of skinny syrup
50g quark
50g 'light' soft cheese
2 teaspoons of sweetener
1 teaspoon of cocoa
10g of chocolate (two blocks), melted in the microwave for 30 secs - 1 minute
What you'll need
This diet-friendly recipe is possible with:

Original Lo-Dough Bases
Regular price
from £3.49
Out of stock
Method
Blitz your Lo-Dough to fine crumbs in a food processor.
Melt the butter in a pan on a medium heat and add the Lo-Dough crumbs a teaspoon of sweetener, a squirt of the skinny syrup and keep stirring for 4-5 minutes until the crumbs have turned golden and crisp.
Add the crumbs to the bottom of a glass and press down with the back of a spoon.
While the crumbs set firm, mix the quark, sweetener, melted choc and cocoa in a bowl.
Once ready, add the sweet cheese mix on top of the crumbs. Set in the fridge for 1-2 hours minimum before serving. We decorated ours with a few chocolate shavings.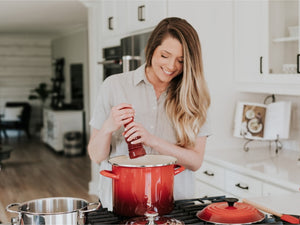 Hungry for more recipes?
Join over 200,000 subscribers in receiving new recipes, tips, offers and a whole lot more.