Enjoy baking? Low-calorie cookies have landed
Low-calorie snacks are one thing, but low-calorie chocolate chip cookies that are also magically without the usual high carbs? What a sweet bit of news.
Chocolate chips, butter - the foods which you are used to being told to steer clear from, all made possible because you are using Lo-Dough as your biscuit alternative.
One Lo-Dough base will make you two delicious, slightly crunchy, slightly chewy cookies and each individual cookie is 123 calories and only 4.5 Carbs. That's half the calories of most equivalent shop-bought cookies and about a sixth of the carbs.
Did you know? You can freeze Lo-Dough 
They also freeze really well, which is giving us another idea. As ever - eating our cookies will fill you up due to the fibre content, so you won't feel the need to keep repeat snacking.
Low-calorie baking recipes that are on plan
If you think Lo-Dough chocolate chip cookies are great, take a look at the other healthy desserts and low-calorie baking recipes which make a once unhealthy food into something which fits in around your fitness goals and macros. It goes without saying that losing weight or being on a weight loss diet is made easier and freer than ever before with a delicious bread and pastry alternative like Lo-dough. 
Inspired? Check out these low-calorie chocolate brownies for more super baking ideas.
Lo-Dough is:
Gluten-free
Fat-free
Sugar-Free
High protein
Dairy-Free
Vegetarian
Only 39 calories per piece
Ingredients
Serves 2
1 piece of Lo-Dough, blitzed to fine crumbs
16g of softened butter
14g of Sukrin :1 sweetener (or other granulated style sweetener)
One small egg, beaten
Half a teaspoon of vanilla extract
A small pinch of salt
10g of chocolate chips
What you'll need
This diet-friendly recipe is possible with:

Original Lo-Dough Bases
Regular price
from £3.49
Out of stock
Method
Preheat your oven to 200C/392F/Gas 6.
Add the butter and sweetener together in a bowl and beat with and electric whisk.
Leaving the egg aside, add all the other ingredients and mix well with a spoon, then slowly add the egg a bit at a time - you may not need the whole thing. Keep pressing the mix together with the back of a spoon until it holds as a firm paste. It may be easier to get your (clean) hands in at this point!
Split the mix into two equal balls. On a greased and lined baking tray, push the balls down into flat discs. You can use a cutter or mould if you want a neat shape. they should be around 0.5cm thick, but it can be slightly thicker without affecting the recipe.
Bake for 7 minutes.
When baked, carefully place them on a rack to cool a little. They can be eaten after 10 minutes or so, or allowed to cool completely.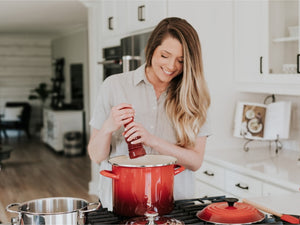 Hungry for more recipes?
Join over 200,000 subscribers in receiving new recipes, tips, offers and a whole lot more.