Low-Calorie Sandwich Perfection 
The mighty Cuban sandwich is something to truly behold. Imagine a ham and cheese but turned up to 11. 2 cuts of pork, swiss cheese, pickles and yellow mustard (US style). Utterly delicious, but a problem for dieters. Well - not if you make it with Lo-Dough!  Buy ditching carby and calorific bread for Lo-Dough you can still enjoy the incredible flavours of this wonderful sandwich, no matter what your diet is. Low-calorie, low-carb and high fibre - Lo-Dough is the dieter's secret weapon.
Make your next sandwich a Lo-Dough Cubano!
Ingredients
Serves 1
1 piece of Lo-Dough
2 ham slices, cut in half
2 roast pork slices, cut in half
2 cheese slices, cut in half
2 pickle gherkins, sliced
A tablespoon of American style yellow mustard
Spray oil
What you'll need
This diet-friendly recipe is possible with:

Original Lo-Dough Bases
Regular price
from £3.49
Out of stock
Method
Preheat your sandwich press/griddle.
Add your ingredients to one half of the Lo-Dough, building up thick layers of each, then top with the mustard and then close over the lid half of the Lo-Dough.
Spray the sandwich press/griddle with oil, place your Lo-Dough sandwich in and close the press.
Cook for 3-4 mins and serve.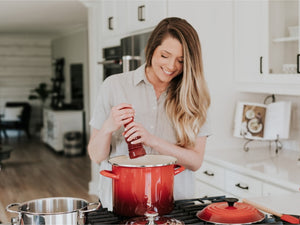 Hungry for more recipes?
Join over 200,000 subscribers in receiving new recipes, tips, offers and a whole lot more.