Low-calorie & Low-carb pizza-pie heaven
The Lo-Dough version of the stateside-pizza sensation has landed and Oh. My. God. is it delicious! In America, it's the source of much controversy - many New Yorkers refusing to even acknowledge that it even counts as a pizza. As far as we are concerned, this is just another stitch in pizza's rich tapestry. If you like sauce then you are in luck - this creation holds plenty of it, along with sausage meat, mushrooms and a hidden layer of melted cheese underneath. 
According to the dishes wiki-page 'Tim Samuelson, Chicago's official cultural historian, says there is not enough documentation to determine with certainty who invented Chicago-style deep-dish pizza. It is often reported that Chicago-style deep-dish pizza was invented at Pizzeria Uno in Chicago, in 1943.'
The primary difference between deep-dish pizza and most other forms of pizza is that, as the name suggests, the crust is very deep, creating a very thick pizza that resembles a pie more than a flatbread. Although the entire pizza is very thick, in traditional Chicago-style deep-dish pizzas, the crust itself is thin to medium in thickness.
Lo-Dough Deep-Dish Pizza
Being a deep-dish, this well-filled pizza pie is well... filling. We give you the recipe below for the sauce, which needs a bit of love in itself (we recommend slowly simmering it for a good 20 minutes to get it thick, rich and delicious).
For our money, one pizza will easily serve two people - but if you beg to differ, the whole thing will only set you back a little over 600 calories.
Be sure to shop carefully for gluten-free sausages if looking to keep this one completely gluten-free.  
Ingredients
Serves 2
1 piece of Lo-Dough
75g Eatlean Protein Cheese
1 tablespoon of parmesan, finely grated
2 pork sausages, removed from their skins and broken into small pieces
3 chestnut mushrooms, finely sliced
Half an onion, finely sliced
1 clove of garlic, finely chopped
1 400g tin of chopped tomatoes
A good pinch of dried oregano
A pinch of chilli flakes
1 tablespoon of tomato puree
A few leaves of basil
Spray oil
Salt & pepper
What you'll need
This diet-friendly recipe is possible with:

Original Lo-Dough Bases
Regular price
from £3.49
Out of stock
Method
Preheat your oven to 180°C/356F/Gas 6.
In a saucepan, gently fry off your onions and garlic in a little spray oil. Once softened, add the tomato puree, the tinned tomatos the oregano and the chilli flakes. Allow to cook down for around 20 minutes until thick and rich.
In another pan, fry off your mushrooms and put to one side. In the same pan, fry off your nuggets of sausage meat for a few minutes until browned.
Roll out your Lo-Dough until thin, (do this between some of the silicone paper found in the packet).
Place the Lo-Dough into a 7inch tin. Add a layer of the cheese, then the sausage. Top with the sauce and arrange the mushrooms on top. Finally sprinkle with parmesan and place into your oven for 15-20 minutes.
Take out, add a few torn basil leaves and serve hot!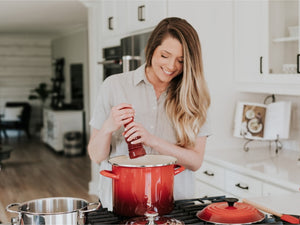 Hungry for more recipes?
Join over 200,000 subscribers in receiving new recipes, tips, offers and a whole lot more.