This Asian Flavoured Low-Calorie Wrap Will Blow Your Mind
Hot, sweet, salty and sour and umami are the four main flavour building blocks of many south-east Asian meals. This dish has all five in spades! 
We slow roasted the duck legs in a low-oven for a good hour and a half then allowed them to rest as cool for a few moments. What this gave us was the juiciest and tender duck flesh we could hope for. It practically fell off the bone and was quickly shredded up with a gentle forking. Next, we made a simple dressing - soy, lime, sweetener, chilii, garlic, ginger, mint, coriander and tossed the duck in a couple of spoonfuls of that. 
Assembling your Low-Calorie Wrap
For the assembly of the dish, we added the dressed duck to a few choice salad ingredients - the unusual ingredient here being watermelon (trust us - you'll be putting it in all your salads once you've tried it - it acts as the perfect palette cleanser with every mouthful). 
As ever, with Lo-Dough, it can be used straight out of the packet, but for a perfect tortilla-thin wrap, we recommended flattening it out with a rolling pin.
You've got to give this recipe a go - trust us, it's a total delight
Ingredients
Serves 1
1 piece of Lo-Dough
150g skinless duck leg
20g of watermelon
15g of salad
1 spring onion sliced
Half a red chilli, sliced
For the dressing
A teaspoon of ginger, grated
A clove of garlic, grated
The juice of half a lime
A heaped teaspoon of sweetener (erythritol)
1-2 tablespoons of soy sauce
A splash of water to dilute
What you'll need
This diet-friendly recipe is possible with:

Original Lo-Dough Bases
Regular price
from £3.49
Out of stock
Method
Season your duck liberally with salt and pepper and place in a baking tray. Cover with foil and roast in a low oven (140C) for approx two hours - or until soft and tender.
Roll out your Lo-Dough with a rolling pin until flattened to tortilla thickness.
Arrange the salad ingredients on your Lo-Dough.
Shred the duck with a fork, mix all you dressing ingredients and then combing the duck and dressing together. Place on top of your salad.
Wrap up and eat straight away, or wrap up in foil and save for later in the day. We dressed ours with a little drizzle of Sriracha mayo too, but this is wholly optional!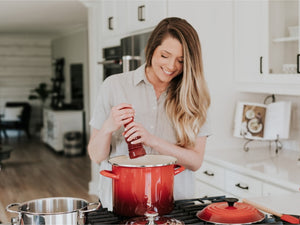 Hungry for more recipes?
Join over 200,000 subscribers in receiving new recipes, tips, offers and a whole lot more.