These Low-Calorie Enchiladas Tick ALL The Boxes
Low-calorie, low-carb, high-fibre & ridiculously tasty - this enchilada recipe, made with Lo-Dough, has it all! It's ready in under an hour and is pretty much the perfect weekend recipe! In can be scaled up or down very easily, so could easily become a family meal. This recipe is written for 4 pieces of Lo-Dough, but you can easily adjust for less/more if needed.
Per portion, these come in at an amazing 336 calories, 14g of carbs and a massive 43g of protein and 11g of fibre. For a flavour-packed, cheesed and sauced up enchilada, this is nothing short of miraculous! 
Note - the carbs can easily be reduced further by altering the choice of veg and leaving out the passata from the recipe.
A Low-Calorie Mexican Classic
Enchiladas were first mentioned in writing in the 19th century, but they are understood to have roots dating back to Mayan times. Popular in both Mexico and the American Southwest, enchiladas come in a number of flavour varieties and can be filled with beef, chicken or any vegetables of your choice. In this case, we have gone with chicken and veg - red and yellow peppers, mushrooms and onions, but it's really just a case of putting in whatever you happen to like. 
There are a fair few ingredients on the list, but it's still a reasonably simple recipe to make and the finished dish is totally worth the effort... trust us! 
Ingredients
Serves 4
For the filling
4 pieces of Lo-Dough
200g of diced chicken thighs
1 small onion, sliced
1 small red pepper, sliced
1 small yellow pepper, sliced 100g of mushrooms, sliced
2 teaspoons of cumin
2 tablespoons of smoked paprika
Salt & pepper
A few sprays of oil
For the sauce
A tablespoon of olive oil
2 cloves of garlic
150g of passata
2 stock cubes/pots
2 tablespoons of chipotle paste (or any smokey chilli-sauce)
2 teaspoons of cumin
2 tablespoons of smoked paprika
2 teaspoons of cornflour
Salt and pepper
To top
What you'll need
This diet-friendly recipe is possible with:

Original Lo-Dough Bases
Regular price
from £3.49
Out of stock
Method
Preheat your oven 200C/Gas 6.
Add all your filling ingredients to a baking tray and mix well to ensure everything is coated in the oil and spice. Bake for 25 minutes, or until the chicken is cooked. Remove and allow to cool.
Get a sauce pan on a medium heat. Quickly sweat the garlic in the oil for a few seconds then add all the other sauce ingredients (excluding the cornflour), plus about 200ml of water. Allow to simmer for a few minutes, then let down the cornflour with a little water and add to the sauce.
Roll out your Lo-Dough so they become a little thinner. Add half the filling mix and roll it up. Repeat with the other Lo-Dough bases and the remaining filling.
Take a tight fitting baking dish and add half the sauce. Place the four wraps in side by side (fold side down to make sure they stay shut). Add the remaining sauce and cheese on top - ensure the wraps are well covered. Place in the oven and cooking until golden and bubbling - this should take approx 20-25 minutes.
Serve alongside some salad and any accompaniments of your choice (guacamole, sour cream, salsa, jalepeno peppers, coriander etc).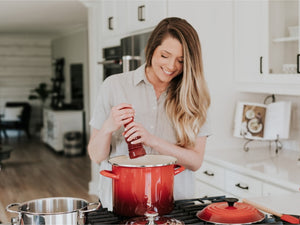 Hungry for more recipes?
Join over 200,000 subscribers in receiving new recipes, tips, offers and a whole lot more.