Low Calorie Ginger Cookies for a Winning Snack
Is it a cookie? Is it a biscuit? With Lo-Dough it can be anything your imagination conjures, and at 21 calories per piece who cares what the name is? The butter in this comforting recipe infuses with the Lo-Dough, whilst the ginger crisps up to create a lovely crunchy style biscuit.
Let's preheat the oven, put the kettle on and get ready for the comforting smell of ginger lingering in the kitchen.
You will need a small biscuit cutter – ours is 5.5cm, a pastry brush and a non-stick baking tray: Makes 24
Ingredients
Serves 1
2 pieces of Lo-Dough
2 tbsp melted butter
50g crystallised ginger (not in syrup)
3 tsp sweetener
Butter spray oil
What you'll need
This diet-friendly recipe is possible with:

Original Lo-Dough Bases
Regular price
from £3.49
Out of stock
Method
1. Preheat the oven to 180˚C.
Spray baking tray lightly with butter spray oil.
With a small biscuit cutter cut 12 rounds out of each piece of Lo-Dough.
4. Blitz the melted butter, and ginger in a processor until smooth, stir in sweetener.
Using pastry brush, brush each side of each round with the mix. Spray both sides with butter spray oil and place on baking tray.
Bake in oven for apx 10-15 mins, keeping a close eye on them.
When turning golden, flip them over for another couple of mins. Some may cook quicker than others so remove them once golden on both sides. Leave to cool and crunch up!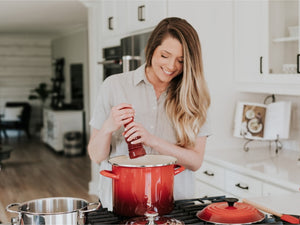 Hungry for more recipes?
Join over 200,000 subscribers in receiving new recipes, tips, offers and a whole lot more.