Our 'Eat Your Greens Pizza' - Low Cal, Veggie Perfection!
Pizza is an endlessly versatile carrier for all manner of toppings and flavours. In this case, we have gone uber-healthy and virtuous - and yet still indulgent, with our Eat Your Greens Pizza! What you get here are the nutritional benefits and wonderful flavour and texture of fresh green vegetables, married with the indulgence of a cheesed up pizza. Win-win right? 
While they are still in season, we have gone with asparagus, tender-stem broccoli and courgettes. But you can swap and change and mix and match as you like. The benefit of buying your vegetables seasonally is that they taste better for being eaten in their own season - the time from ground to plate will be far shorter. Perhaps more importantly, their carbon footprint will be dramatically reduced - they can be grown naturally and will be less likely to be imported. 
Low-Calorie Pizza Made With Lo-Dough
The macros on this pizza are mind-blowing. Take all the macro-nutrient goodness of the vegetables themselves and serve them on a pizza that comes in at 286 calories, 6g of carbs (3g of sugar) and a whopping 11g of carbs and you know you are on to something pretty special. WHat's behind that massive calorie reduction? Well, we are using full-fat cheese, so it can't be that! You guessed it - it's the Lo-Dough Pizza base... working as hard as ever to keep you on-plan, but allowing you to indulge in delicious pizza. 
Whatever way you slice it: Make It With Lo-Dough. 
Top Tip: You will need to briefly blanch the thicker stemmed green veg before topping the pizza. Just add to salted boiling water for approx two minutes and drain. 
Ingredients
Serves 1
1 piece of Lo-Dough
75g of grated mozzarella
20g asparagus, blanched
20g of courgette, thinly sliced
30g of tender-stem broccoli, blanched
2 tablespoons of passata
What you'll need
This diet-friendly recipe is possible with:

Original Lo-Dough Bases
Regular price
from £3.49
Out of stock
Method
Preheat your oven to 250°C/475F/Gas 9.
Put the Lo-Dough onto a cooking mesh/grill bars/pizza stone/air-fryer stand. Spoon the passata onto your Lo-Dough, making sure to spread it right to the edge.
Add the mozzarella on top, distributing as evenly as possible. Then add your vegetables.
Bake in your oven for 7-10 minutes, or until golden and bubbling. Serve straight away.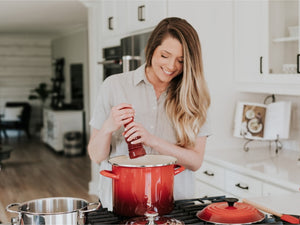 Hungry for more recipes?
Join over 200,000 subscribers in receiving new recipes, tips, offers and a whole lot more.