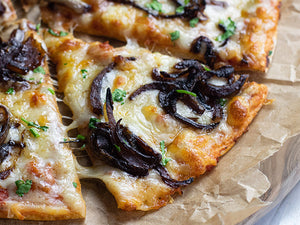 gluten-free
vegetarian
Low-Calorie Gruyere & Balsamic Onion Pizza
Share
Facebook
Twitter
WhatsApp
Email
This perfect combination will blow your mind. Low-Carb pizza for the win! 
Sometimes the simple things in life are the best and this combination of gorgeous gruyere and sweet balsamic onions is a great example of that. Served with Lo-Dough, it makes for a low-carb pizza that doesn't compromise on flavour one bit. 
The trick is to take your time with the onions - cook slowly for at least 30 minutes - you can always make a large amount and portion in batches for future uses.
Ingredients
Serves 1
1 piece of Lo-Dough
70g of gruyere, grated
2 tablespoons of passata
Half an onion
1 tablespoon of balsamic vinegar
A few sprays of one-cal spray, or a little olive oil
What you'll need
This diet-friendly recipe is possible with:

Original Lo-Dough Bases
Regular price
from £3.49
Out of stock
Method
Preheat your oven to 220°C/Gas 7.
Slowly sweat down the onions in pan with the oil for approx 15-20 minutes, adding the balsamic vinegar for the last minute or two.
Spread the passata on the smooth side of your Lo-Dough, spreading right to the edge. Then add your cheese, again, right to the edge.
Top with blobs of the balsamic onions.
Bake in your oven for 7-10 minutes, or until golden and bubbling. Garnish with herbs if desired. Serve straight away.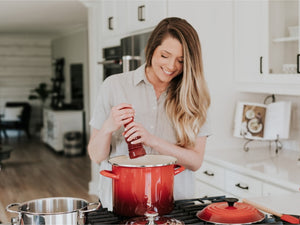 Hungry for more recipes?
Join over 200,000 subscribers in receiving new recipes, tips, offers and a whole lot more.