Our insanely low-calorie pizza is perfect for a weight loss diet 
We've got the ultimate pizza to rely on when dieting. At 170 kcals per pizza, this is perfect counterpart to the usual soups, salads and other bog-standard diet-fare. By combining 50g of half-fat mozzarella, lean ham, mushrooms and passata alongside the incredibly low-calorie Lo-Dough base.  
We've broken our own 'take the cheese to the edge' rule on this one, so ensure your Lo-Dough is well covered in passata to stop it catching in the oven.
Ingredients
Serves 1
1 piece of Lo-Dough
20g of Wiltshire ham, torn into pieces
20g of mushrooms
50g of low-fat mozzarella, sliced into very thin rounds
2 tablespoons of passata
Fresh thyme (or dried if using)
2-3 sprays of fry-light oil
Salt & pepper
What you'll need
This diet-friendly recipe is possible with:

Original Lo-Dough Bases
Regular price
from £3.49
Out of stock
Method
Preheat your oven to 250°C/475F/Gas 9.
Spray the fry-light into a pan, and fry off the mushrooms for 2 minutes, adding the garlic and fresh thyme after 1 minute. Put to one side.
Put the Lo-Dough onto your cooking tray smooth side up and spoon the passata over it, making sure to spread it right to the edge.
Add the cheese, followed by the ham and mushrooms.
Bake in your oven for 7 minutes - serve when the cheese is golden and bubbling.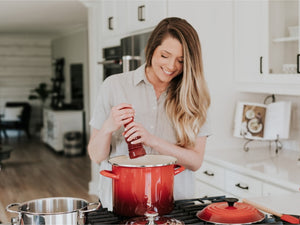 Hungry for more recipes?
Join over 200,000 subscribers in receiving new recipes, tips, offers and a whole lot more.