This spicy chicken pizza will set your taste buds on fire without the excess calories and carbs
This Jamaican inspired fusion pizza is just the ticket for a tasty, quick and easy bite to eat that won't stack up the calories and carbs.
To make life even easier, we've used Spicentice's Jamaican Jerk Chicken blend to spice up the chicken before cooking and to add a bit of kick to the sauce base. Put it all on a low-carb Lo-Dough base and you've got a tasty as heck pizza, for a fraction of the calories and carbs as normal. 

Simplicity and perfection!  
Ingredients
Serves 1
1 piece of Lo-Dough
2 tablespoons of passata/pizza sauce
70g grated mozzarella
70g of cooked chicken breast, sliced
10g of jerk seasoning
10g of scotch bonnet chilli (or other chilli of your liking)
20g of onion, finely sliced and softened
What you'll need
This diet-friendly recipe is possible with:

Original Lo-Dough Bases
Regular price
from £3.49
Out of stock
Method
Preheat your oven to 220°C/428°F.
Add half the jerk seasoning into the passata and spread across across the Lo-Dough in a thin layer, right up to the edge.
Coat the chicken with a little spray oil and the remaining jerk seasoning. Spread the cheese around the pizza. Top with the chicken, onion and chilli, spreading them evenly across the pizza.
Bake in the oven for 7-10 minutes, or until golden and bubbling. Serve with a crack of black pepper on top.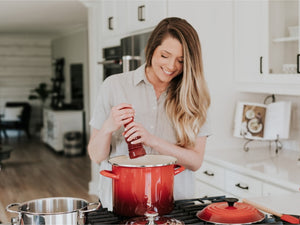 Hungry for more recipes?
Join over 200,000 subscribers in receiving new recipes, tips, offers and a whole lot more.