Low-Calorie Pizza & Culinary Fusion At Its Best
Some ideas can sound a little wacky and out-there, but once put into practice, just make perfect sense. This is one of them - the chicken katsu pizza: the place where Japan meets Italy in a head-on collision and the result is... totally delicious! 
Beautiful breadcrumbed chicken, a light, fruity curry sauce, creamy mozzarella and fresh coriander, all on a low-calorie Lo-Dough pizza base. Trust us, it works... bigtime. 

Low-Calorie Pizza without compromising on taste
As far as macros go, it's impressive on all fronts. Just 351 calories and 8g carbs, but also a whopping 47g of protein and 14g of fibre. This pizza tastes great and works hard for you! 
We're betting this is something you haven't tried before... but take our word for it, make it once and you'll be making it again and again! 
Ingredients
Serves 1
1 piece of Lo-Dough
Half a ball of (half fat) mozzarella, sliced into thin rounds
75g of katsu chicken
50g of katsu curry sauce
15g of red onion, finely sliced
A few sprigs of fresh coriander
What you'll need
This diet-friendly recipe is possible with:

Original Lo-Dough Bases
Regular price
from £3.49
Out of stock
Method
Preheat your oven to 250°C/475F/Gas 9.
Spoon the curry sauce onto your Lo-Dough, making sure to spread it right to the edge.
Add the mozzarella on top, distributing as evenly as possible. Then add your katsu chicken and onion, in an even spread.
Bake in your oven for 7-10 minutes, or until golden and bubbling. Dress with a little extra sauce and a few sprigs of coriander and serve straight away.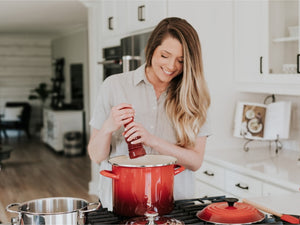 Hungry for more recipes?
Join over 200,000 subscribers in receiving new recipes, tips, offers and a whole lot more.