Combine Lo-Dough's low-cal cake mix and low-carb brownie mix for a show-stopping party cake!
Chocolate or vanilla? Decisions, decisions. 
Well, don't be forced into choosing—combine the two together for an incredible low-calorie cake experience. Using Lo-Dough's just-add-water mixes couldn't be easier and by layering up both our vanilla sponge and brownie, you can easily make a cake that will impress all who see and taste it!
The difference is in the macros. Low-carb, low-calorie, high fibre, low-sugar and gluten free, this cake is set to blow some minds and fill some hungry bellies! 
Ingredients
Serves 8
1 Lo-Dough Vanilla Sponge Mix
240g of water
1 Lo-Dough Brownie Mix
250g of water
What you'll need
This diet-friendly recipe is possible with:
Lo-Dough Brownie Mix
Regular price
£5.59
Out of stock
Method
Preheat your oven to 180C/356F. In seperate bowls, make the Vanilla Sponge Mix and Brownie Mix according to the packet instructions on each. When mixed, combine the two mixes in a 6-inch silicone cake mould or a lined 6-inch tin.
Bake for 35 minutes and allow to cool, taking out and leaving it on a cake rack.
Serve with cream, creme fraiche, custard or anything else of your choice. Alternatively, top or fill if desired.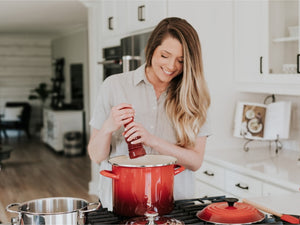 Hungry for more recipes?
Join over 200,000 subscribers in receiving new recipes, tips, offers and a whole lot more.