A Low-Calorie Veggie Pizza With A Difference
This Mediterranean pizza feast is something very special indeed. Instead of the usual tomato sauce, we have made a red-pepper puree and spread that over the base. When teamed up with grilled Mediterranean veg, the result is something very special indeed and will have you transported away to sunnier climes. 
You can, of course, buy red-pepper paste or puree from most supermarkets these days, but making your own is simple enough. Gentle fry a sliced red pepper until soft, add chopped garlic and fry for a further minute. Season with salt, pepper, a squeeze of lemon and a pinch of paprika and blitz in a small food processor to a paste. If you don't have a food processor, wait till the mix cools down and just keep running a knife through it until you have a coarse paste. We recommend making more than you need anyway - at least double up on that recipe. It'll keep in the fridge for 3 days or so and is great to drizzle over salads, meats, fish or make a flavoursome sauce for a wrap. 
Likewise when it comes to charring your Mediterranean vegetables - do more than you need, dress in a little oil and keep in the fridge for a few days to serve as a side or as part of a salad.
Making a Low-Calorie Pizza With Lo-Dough 
No matter what you put on your pizza, making it with Lo-Dough is the key to cutting out all the empty carbs and calories of a regular pizza base. Lo-Dough is just 39 calories, 2.2g of carbs and a whopping 9.3g of gut-healthy fibre that not only does your stomach good also satiates your appetite quicker, meaning you will feel full for longer. Making a pizza is super simple - it's a basic assembly job, with a just couple of simple rules (basically, spread sauces to the edge and use a good amount of topping). 
If you want a delicious pizza that won't upset whatever diet you happen to be on, remember: Make it with Lo-Dough
Ingredients
Serves 1
For the red pepper puree
Half a red pepper, diced
Half a clove of garlic, sliced
A good pinch of smoked paprika
A squeeze of lemon juice
For the pizza
1 piece of Lo-Dough, briefly pre-browned in a pan
70g of grated mozzarella
15g (a few half moons) of aubergine
15g (a few half moons) of courgette
A few olives, halved
A few capers
Parsley to garnish (optional)
Spray oil (approx. 10 sprays)
What you'll need
This diet-friendly recipe is possible with:

Original Lo-Dough Bases
Regular price
from £3.49
Out of stock
Method
Preheat your oven to 250°C/475F/Gas 9.
Add the red peppers to a pan with a few sprays of oil and soften over a gentle heat. for the last minute add the garlic, paprika, lemon juice and a little seasoning and blitz or chop to a puree.
Spread the puree across the pre-browned Lo-Dough in a thin layer, right up to the edge.
Sprinkle the cheese over, right to the edge and then place all the other pizza toppings around and bake in the oven for 7-10 minutes, or until the pizza has reached your desired crispiness.
Remove the pizza from the oven, garnish with the parsley if desired and serve.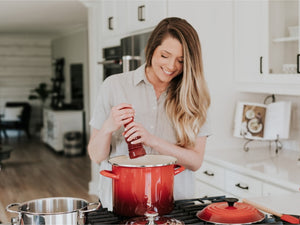 Hungry for more recipes?
Join over 200,000 subscribers in receiving new recipes, tips, offers and a whole lot more.