For those who like their chocolate with the fresh taste of mint - these low-calorie brownies are for you!
There aren't many boxes the Lo-Dough brownies don't tick. Low-cal, low-carb, high-fibre, gluten-free, deliciously chocolatey and super easy to make. These mint-versions are no exception - give them a go today!
Ingredients
Serves 9
1 pack of Lo-Dough Brownie Mix
A cap of mint flavouring
A cap of green colouring
90g of cream cheese
40g of erythritol (sweetener)
What you'll need
This diet-friendly recipe is possible with:
Lo-Dough Brownie Mix
Regular price
£5.59
Out of stock
Method
Make the Lo-Dough Brownie Mix as per the packet instructions.
Add the mix to your lined tin and bake for 25 minutes at 190C.
Allow to cool (as per the instructions) and then cut into 9 portions. Then, carefully cut each brownie in half along the face of the brownie. Once cooled, this should be easy to do.
Mix the flavouring, colouring, cream cheese and sweetener to make the filling. Fill each halved brownie with a good tea spoon of the cream and sandwich.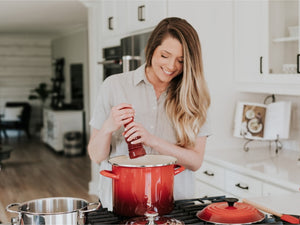 Hungry for more recipes?
Join over 200,000 subscribers in receiving new recipes, tips, offers and a whole lot more.