A Low-Cal Update On An American Deli Classic 
This hot, pastrami toastie is filled with layer upon layer of pastrami, topped with a layer of pickles and then topped with cheese. A short stay in the sandwich press with leave you with a beautiful, hot sandwich, with gorgeous, oozy cheese.
This is Lo-Dough at it's most simple - a 4 ingredients, a 5 minutes cooking time and an absolute knock-out result. 
It was New York's Sussman Volk that was credited with producing the first pastrami sandwich in the United States in 1887. Volk, a New York immigrant from Lithuania claimed he got the recipe from a Romanian friend in exchange for storing the friend's luggage while the friend returned to Romania. According to his descendant, Patricia Volk, he prepared pastrami according to the recipe and served it on sandwiches out of his shop. The sandwich was so popular that Volk converted the shop into a restaurant to sell pastrami sandwiches.
Today, the sandwich is almost iconic as a New York deli favourite. By switching from regular bread to Lo-Dough, you up the fibre, but reduce the carbs and calories dramatically. Plus, by using Eatlean Protein Cheese, you get a massive 45g of protein at only 4% fat. Try it today!
Ingredients
Serves 1
1 piece of Lo-Dough 110g of pastrami
Approx. 50g of Eatlean Cheese, sliced
1 large pickled gherkin
2 sprays fry-light oil
What you'll need
This diet-friendly recipe is possible with:

Original Lo-Dough Bases
Regular price
from £3.49
Out of stock
Method
Preheat your toastie/sandwich maker.
Cut your Lo-Dough in half to create your base and lid.
Add your pastrami, pickles, and finish with a layer of cheese and add the lid.
Spray the lid with fry-light oil and place this side down into your sandwich maker.
Spray the opposite side before closing your sandwich maker.
Cook for approx. 5 minutes and serve. American Mustard on the side works particularly well.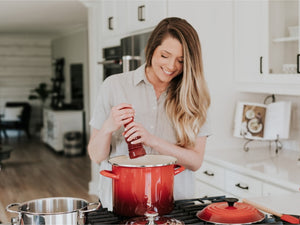 Hungry for more recipes?
Join over 200,000 subscribers in receiving new recipes, tips, offers and a whole lot more.