Use Lo-Dough To Create Incredible Low-Calorie Pies
Pies are actually are very economical and speedy uses for Lo-Dough lovers. The prep time on a pie can actually be very fast indeed and whilst it is cooking in the oven (or slow cooker), you are free to get out to the gym, do other jobs or even just relax. After around 3 hours in a low oven, the meat in your stew will be fall-apart tender and ready for a piece of Lo-Dough to be put on top, egg washed and stuck back in the oven for a final 30 mins. 
What you end up with is a meal for that very night, but also the leftover stew that can become the building blocks of any number of future meals. For example, turn it into a pasty or mini pie maker pie (if you have a pie maker). Or why not, reduce and stir in some passata to quickly convert it into an amazing pasta sauce. If you've eaten all the meat and veg, but still have some gravy left? What you have there is delicious oxtail soup - serve it with a cheesy Lo-Dough toastie!
Making a stew can be as laboured or as simple as you like. At it's easiest, chop all the ingredients as you want them in the finished dish and put them into casserole dish. Add a can of stout (Guinness or other) and some water to cover, a stock cube, herbs and seasoning. Cover and cook for three hours. Check and adjust the seasoning (possibly add a little sweetener to balance the bitterness from the stout) at the end and voila! 
A Low-Calorie Pastry Replacement
Using Lo-Dough in place of the pastry completely alters the nutritional composition of this dish. A portion of steak pie and a quarter of a piece of Lo-Dough is only 178 calories and 8.7g of carbs. If you want the meal to feel more filling and take a half a piece of Lo-Dough, you are only adding 10 calories and 0.5g of carbs. Serve alongside carrots and green veg for a great fibre (and other nutrients) boost. 
When looking to reduce calories and carbs, whilst boosting fibre in a way that helps keep you feeling full and satiated, there really is nothing quite like Lo-Dough. 
Ingredients
Serves 4
1 piece of Lo-Dough
1 egg, beaten for egg washing
100g of cooked beef stew (Any recipe you like, but our super simple recipe can be seen above)
Salt & pepper
What you'll need
This diet-friendly recipe is possible with:

Original Lo-Dough Bases
Regular price
from £3.49
Out of stock
Method
Preheat your oven to 180C/356F/Gas 4.
Make beef-stew in your casserole dish as described above, or follow your own favourite recipe for a stew. Take out and top with the piece of Lo-Dough.
Brush the Lo-Dough with a little beaten egg and place in your oven. Cook for 30 minutes, or until the Lo-Dough is golden brown.
Serve piping hot.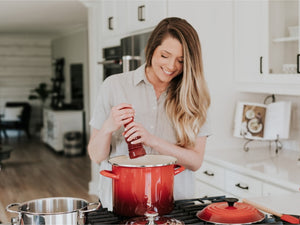 Hungry for more recipes?
Join over 200,000 subscribers in receiving new recipes, tips, offers and a whole lot more.