A store cupboard staple will make this low-calorie cake even easier...
By poaching your own pears for this cake, you can fragrance them with any flavours you like. Herbs, aromats, ginger, citrus - pretty much anything. Even bay works brilliantly when used subtly. 
That said, for this pear cake, we went quick and easy - we just used half a tin (drained) of pears. Soft, scented and beautiful when paired with our vanilla sponge, this is a perfect cake for elevenses. 
Paint the top of the cake with a little low sugar syrup to give it that delicious looking, sticky glaze.
Ingredients
Serves 6
1 Lo-Dough vanilla sponge mix
240g of water
Half a drained tin of pears in juice
20ml low sugar syrup
Method
Make up the Vanilla Sponge Mix with the 240g of water and transfer into a lined 6-inch tin or mould.
Push in the pieces of drained, tinned (or poached) pears. Bake according to the packet instructions - 35 mins at 180C.
Once cooked, remove and cool. Paint the top with the low-sugar syrup for a sweet sticky finish.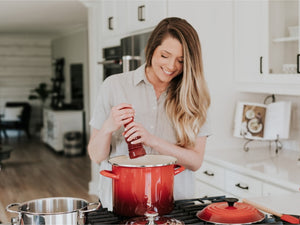 Hungry for more recipes?
Join over 200,000 subscribers in receiving new recipes, tips, offers and a whole lot more.