Simple, easy and VERY delicious, low-calorie Chinese-style food.
We all LOVE bao buns here at Lo-Dough, but if looking to cut calories, up your fibre or are avoiding carbs or gluten for any other reason, we've found that our bases are a brilliant replacement for the buns themselves. Simply cut your Lo-Dough base in half and add as many tasty fillings as you can fit in. Fold over and warm the whole thing through in a steamer. One base makes two perfectly portioned Lo-Dough baos. We've gone all out, but these are a great way to use up some leftover stir fry and roasted meats, etc. In this case, we've gone with a roasted pork and stir fried veg bao, with delicious fresh garnishes.
Ingredients
Serves 1
Half an Original Lo-Dough Base
100g pork belly/shoulder cooked (we glazed ours with hoisin sauce and slowly roasted)
50g mixed stir-fried vegetables
20g of simple Asian-style slaw (raw crisp veg and sliced chilli lightly pickled in rice wine vinegar, a touch of sweetener and soy)
What you'll need
This diet-friendly recipe is possible with:

Original Lo-Dough Bases
Regular price
from £3.49
Out of stock
Method
Add the cooked pork and stir-fry veg to the the Lo-dough.
Fold over the lid and place in a steamer (as pictured). Cook for approx. 3-4 minutes over a medium heat.
When the meat and veg are fully heated through, open the lid and add in the additional slaw and garnish. Serve.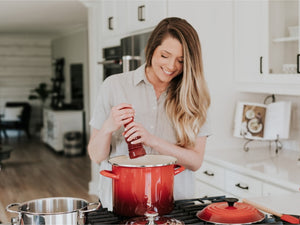 Hungry for more recipes?
Join over 200,000 subscribers in receiving new recipes, tips, offers and a whole lot more.