Low-Calorie Pumpkin Pie? Nothing Says 'Autumn' Quite Like This Sweet Treat
When pumpkins come into season, it's time to make the most of all they have to offer. Savoury and sweet dishes can benefit from their mellow sweet flavour. It's not just pumpkins... squashes of all varieties can be used here (if you can't find a pumpkin, butternut squash can be used instead). 
Pumpkin pie is traditionally a calorie-laden US classic dessert, but made with Lo-Dough and using our method, the calories are slashed, with non of the flavour being sacrificed. Indeed, we've saved you so many calories, you could treat yourself to a nice blob of cream on the side...
Ingredients
Serves 6
1 piece of Lo-Dough
150g of pumpkin puree
4 egg yolks
150ml half fat creme fraiche
70g of sweetener (Sukrin: 1 recommended)
A teaspoon of ground nutmeg
A teaspoon of cinnamon
What you'll need
This diet-friendly recipe is possible with:

Original Lo-Dough Bases
Regular price
from £3.49
Out of stock
Method
Preheat your oven to 140c/Gas Mark One.
Whisk the eggs, pumkin puree, creme fraiche, spices and sweetener thoroughly.
Put your Lo-Dough into a 7inch tin.
Pour in the pumpkin custard mix and bake gently for 40-45 minutes. The custard should be set, but still have a bit of a wobble.
Allow to cool on a rack and once cooled enough place in the fridge for at least an hour before serving. Dust with more cinnamon if desired.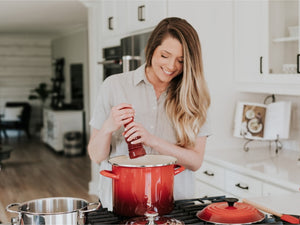 Hungry for more recipes?
Join over 200,000 subscribers in receiving new recipes, tips, offers and a whole lot more.