This Strong Flavoured, Classic Italian Sauce Works Great On A Low-Calorie Pizza
Puttanesca sauce, from Naples is a sauce made using a whole host of strong, sharp ingredients. Anchovies, olives, capers, chilli, garlic, lemon (juice and zest) and parsley are all mixed into a passata to create what is traditionally served as a pasta sauce. Though we are sure none of the locals of Naples would be too impressed taking two of their beloved classics and combining them (Neapolitans are famously protective of their very traditional recipes), we think this works fantastically as a pizza sauce. We put some of the ingredients into the sauce and saved some to go on top. If you are missing one or two of the ingredients or don't like anchovies (for example), just leave them out... no one ingredient will make or break the recipe. 
So what about the macros? Well, this pizza is only 345 calories and 9g of carbs, but contains 24g of protein and an impressive 13.3g of fibre - just short of HALF your daily allowance. 
Low-Calorie PIzza? Low-Carb Pizza? Even Low-Fat AND Low-Carb Pizzas. Lo-Dough has got you covered!
This pizza uses a full covering of full-fat mozzarella and comes in at 416 calories and 9g of carbs. To make it lower fat and higher protein, you could combine Lo-Dough with Eatlean - the ultimate low-calorie pizza combination. 
Whatever way you make your pizza - this flavour combination really packs a punch and it comes with the Lo-Dough team's seal of approval!
Ingredients
Serves 1
1 piece of Lo-Dough, briefly pre-browned in a pan
70g of grated mozzarella
30g of passata
3-4 anchovy fillers, drained and chopped into small pieces
A small handful of black olives, halved
A couple of teaspoons of capers
A pinch of chilli flakes
The zest of half a lemon
A small queeze of lemon juice
A small handful of chopped parsley
Spray oil (approx. 3-4 sprays)
What you'll need
This diet-friendly recipe is possible with:

Original Lo-Dough Bases
Regular price
from £3.49
Out of stock
Method
Preheat your oven to 250°C/475F/Gas 9.
Spread the passata across the pre-browned Lo-Dough in a thin layer, right up to the edge. Squeeze over the lemon juice.
Add the cheese and the rest of the ingredients over the pizza evenly.
Bake in the oven for 7-10 minutes, or until the pizza has reached your desired crispiness.
Remove the pizza from the oven, garnish with the chopped parsley and some black pepper.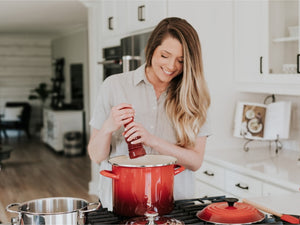 Hungry for more recipes?
Join over 200,000 subscribers in receiving new recipes, tips, offers and a whole lot more.