Cheesed up, fully loaded quesadillas without the excess carbs and calories? Oh yes...
This is the Mexican flavour hit you've been waiting for! Shredded chicken, STACKS of mixed veg, spice and cheese - with Lo-Dough replacing the carb-heavy tortillas you'd normally find. 
It's simple to make and a lot of the prep can be done ahead to make your life even easier! Try alongside, salsa, guacamole, sour cream, pickled chillis - anything you like really!
Ingredients
Serves 2
2 pieces of Lo-Dough
100g of chicken breast, chipped into chunks
25g of sweetcorn
25g of red pepper, finely diced
25g of asparagus, chopped into 1cm pieces
10g of onion, finely chopped
1 clove of garlic, finely chopped
50g of mushrooms, roughly chopped
20g of spinach
A teaspoon of smoked paprika
A teaspoon of cumin
A handful of fresh coriander
Salt & pepper
6-8 sprays of Fry-Light
What you'll need
This diet-friendly recipe is possible with:

Original Lo-Dough Bases
Regular price
from £3.49
Out of stock
Method
In a large frying pan, in the 6 sprays of oil, fry the chicken and all the chopped vegetables (hold back on the spinach for now) for 10 minutes on a medium heat, stirring regularly. Once cooked, add the spinach, cumin, paprika and some salt and pepper to taste and cook for a further 2 minutes.
Add the cooked veg to a bowl and mix in the grated cheese.
Heat up a sandwich press, or griddle pan. Add plenty of filling to on half of a piece of Lo-Dough and fold over, as if making a toastie. Spray each spray the press/griddle with a little oil and place in the sandwich maker or on the griddle and cook until the cheese is melted (you'll have to flip if using a griddle). Repeat for the second quesadilla, or save the mix in the fridge for another meal.
Cut each quesadilla in half and serve alongside any accompaniments you like. Suggestions in description.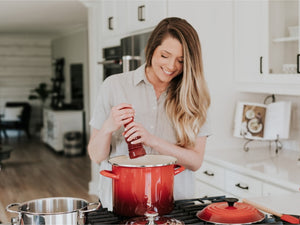 Hungry for more recipes?
Join over 200,000 subscribers in receiving new recipes, tips, offers and a whole lot more.