That's the beauty of Lo-Dough - If you want to treat yourself to a blow-out feast with an indulgent, higher fat ingredient, Lo-Dough gives you the leeway on the extra calories and carbs.
What's a Lo-Dough pizza base?
Well, let us tell you! It's a wonderful innovation which allows you to have a pizza base for just 39 calories, and virtually no carbs. Virtually no carbs. It's a low carb bread, as well as a pastry alternative which has taken the slimming and fitness worlds by storm - not least because it's also gluten free, high protein, high fibre and frankly delicious like soft white bread. 
Low calorie pizza magic 
So you've got the base, now for the toppings. For the sauce, we used Nowt Poncy's 'L'Amore E Pizza' - but there is nothing stopping you from getting nice, herby passata from your local supermarket.
The smoked sausage you use is up to you. An artisan farmers-market style sausage, sliced over your pizza would be lovely, as would a Polish 'Kiolbasa', found in the aisles of most supermarkets these days.
Similarly, a Spanish chorizo sausage would give a lovely smokey taste too. Pick your favourite or experiment and try something new - all in the knowledge that you don't need to worry about calories and carbs thanks to Lo-Dough. 
Curious about how to use Lo-Dough? See the 'how to' guide here. 
Check out the top 10 Lo-Dough pizza recipes, all super low in calories. 
Ingredients
1 piece of Lo-Dough, lightly fried with spray oil in a pan
1 smoked sausage (approx 80g, but will depend on the sausage you choose)
10g of thinly sliced red onion
60g of passata
75g of grated mozzarella
A twist of black pepper
What you'll need
This diet-friendly recipe is possible with:

Original Lo-Dough Bases
Regular price
from £3.49
Out of stock
Method
Preheat your oven to 250°C/475F/Gas 9.
Quickly and lightly toast of your Lo-dough slice in a couple of sprays of fry-light.
Put the Lo-Dough onto your cooking tray/pizza stone/air-fryer stand and spoon the passata over it, making sure to spread it right to the edge.
Add the grated cheese and then add your sausage and red onion, ensuring everything is spread evenly.
Bake for 7-10 minutes and once golden and bubbling, serve straight away.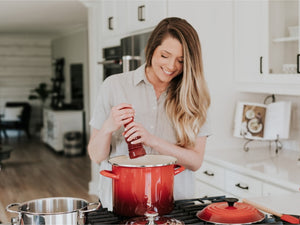 Hungry for more recipes?
Join over 200,000 subscribers in receiving new recipes, tips, offers and a whole lot more.