With avocados being incredibly (somewhat surprisingly) high in fat, this can be a calorie-laden dish, so that's where Lo-Dough comes in. Low calorie smashed avocado toast opens up so many doors, instead of the high-calorie and carb-heavy white/wholemeal bread, using Lo-Dough negates this problem and allows you to enjoy the delights of indulgent eating. 
Smashed avocado open sandwiches first started appearing on menus sometime in the 90's, but has since come to symbolise the eating habits of the millennial generation.
NOTE - Do not toast Lo-Dough in a toaster.
Low calorie smashed avocado toast is super easy 
One Lo-Dough cut into quarters easily holds two medium avocados, so this actually works out as an economic use of your Lo-Dough - serving 2 people with just one piece whilst still being filling and irresistible. 
We dressed ours with the brilliant Blend Bros Piri Piri Sauce and a little balsamic.
Lo-dough is:
gluten free | dairy free | fat free | low carb | sugar free | high in protein | high  fibre | vegetarian | 39 calories per piece 
Ingredients
Serves 2
1 piece of Lo-Dough
2 ripe, medium avocados
8 cherry tomatoes on the vine
Half a red chilli, finely chopped
A small handful of fresh corriander
Half a clove of garlic, crushed
The juice of half a lime
Blend Bros Piri Piri Sauce
Spray-oil
What you'll need
This diet-friendly recipe is possible with:

Original Lo-Dough Bases
Regular price
from £3.49
Out of stock
Method
Place your tomatoes in a hot oven to roast for a few minutes.
Crush the avocados with a fork and add the lime immediately. Then add the garlic, coriander and chilli and mix.
Heat up a griddle pan, give it a few sprays of oil and quickly toast your Lo-Dough until it has some bar marks on it and a slightly crispier texture - this won't take very long.
Add the crushed avocado mix onto the toasts and top with the tomatoes. Dress with some Blend Bros Piri Piri Sauce. You can add balsamic if desired too.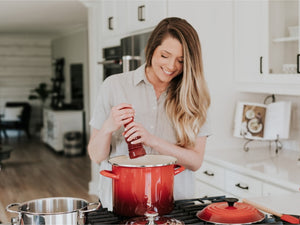 Hungry for more recipes?
Join over 200,000 subscribers in receiving new recipes, tips, offers and a whole lot more.