A Low-Calorie Tapas Favourite That Will Satisfy As A Main Meal
Spanish meatballs (Albondigas) are a delicious favourite of many tapas lovers. This particular tapa is comprised of soft texture meatballs in a rich, smokey tomato sauce. To get the texture of the meatballs right, bread is often soaked in milk and added to the raw meat mixture before cooking. In our case, we have added half a piece of Lo-Dough, making for a much lower carb and gluten-free meatball. The sauce is a thick tomato-based sauce, albeit flavoured with plenty of garlic smoked paprika for a distinctive Spanish flavour. 
To answer the question of what to do do with the other half of the Lo-Dough, we went with cheesy garlic bread. It is the perfect vehicle for any left-over sauce that needs mopping up once the meatballs are gone. Though a satisfying meal on its own, this would be great as part of a shared tapas platter, with countless other tapas plates on the go. 
Low-Calorie Meatballs
The meatballs themselves can be made ahead and reheated and are perfectly fine to freeze, so it would be worth making a bigger batch and freezing off portions for future meals - it always pays to get ahead.  
We just know you'll love this one, whether having as a main or part of a tapas spread. 
Buen provecho!
Ingredients
Serves 2
For the meatballs
1 piece of Lo-Dough
100g of pork mince
100g beef mince
A splash of milk
A small handful of parsley, finely chopped
Salt & pepper
A few sprays of oil
For the sauce
200g of chopped tomatoes
1 clove of garlic, finely chopped
2 teaspoons of smoked paprika
Salt and pepper
A few sprays of oil
For the garlic bread
1 piece of Lo-Dough
1 clove of garlic, minced
60g of mozzarella
30g of low fat cream cheese
What you'll need
This diet-friendly recipe is possible with:

Original Lo-Dough Bases
Regular price
from £3.49
Out of stock
Method
Preheat your oven 200C/Gas 6.
Soak 1 piece of Lo-Dough in a splash of milk. Mash and break down with a fork and then combine with all the other meatball ingredients.
Mould into small walnut sized meatballs, spray with oil and place on a baking tray. Bake for approx 20 mins or until cooked through and brown.
While the meatballs cook, make the sauce. briefly fry the garlic in a little spray oil, then add all other sauce ingredients and reduce down over a medium heat, until thick a delicious. Check for seasoning.
With the meatballs cooking and the sauce reducing, make your garlic bread. Spread the second piece of Lo-Dough with the soft cheese, sprinkle the garlic around and then top with mozzarella. Cook in the oven for approx 7 minutes.
Finally, combine the meatballs and sauce, cook together for a further 2 minutes and then serve, with the garlic bread alongside.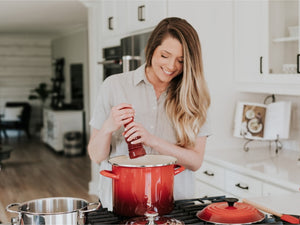 Hungry for more recipes?
Join over 200,000 subscribers in receiving new recipes, tips, offers and a whole lot more.