Classic Stateside Pizza Without The Calories!
Take your pepperoni pizza up another level by adding extra chilli and making it an American Hot. Some varieties of pepperoni can pack a slight punch as they are, but for real chilli lovers, this is the only way to go. 
By making it with Lo-Dough, you are guaranteed a massive reduction in both calories and carbs, while boosting the fibre to around one-third of your recommended daily intake. 
Ingredients
Serves 1
1 piece of Lo-Dough
35g of pepperoni
15g of jalapeno chilli peppers, sliced
70g of grated mozzarella
2 tablespoons of passata
A twist of black pepper
What you'll need
This diet-friendly recipe is possible with:

Original Lo-Dough Bases
Regular price
from £3.49
Out of stock
Method
Preheat your oven to 220°C/428 F.
Spread the passata across the Lo-Dough in a thin layer, right up to the edge.
Spread the grated cheese on top of the passata and add the pepperoni and jalapenos. Bake in the oven for 7-10 minutes, or until golden and bubbling.
Serve with a crack of black pepper on top.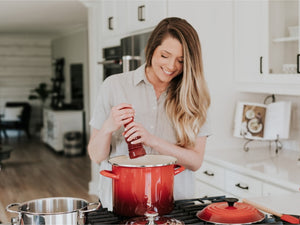 Hungry for more recipes?
Join over 200,000 subscribers in receiving new recipes, tips, offers and a whole lot more.