This Low-Calorie Masterpiece Is Pretty Much Veggie Heaven
One great batch cooking life-hack for busy people is to roast off a big tray at the start of a week and keep in the fridge. Then you have an incredibly versatile base to all manner of meals. Salads, sandwiches, blitz up for a bowl of soup or do what we've done - make an insanely low-calorie Lo-Dough pizza. 
Go as spicy as you like (we went a little crazy), but a tray full of chopped veg roasted in a hot oven for 20-30 minutes (in oil (olive oil or spray oil), chllli flakes, paprika, salt and pepper) is something we're always glad to have waiting for us after a hard days work!
Ingredients
Serves 1
1 piece of Lo-Dough
70g of grated mozzarella
2 tablespoons of passata
30g red (or mixed) pepper, chopped
20g of courgette, chopped
20g of aubergine, chopped
20g of red onion, finely chopped
A pinch of chilli flakes
A teaspoon of paprika
Salt & pepper
A llittle oil/spray oil
What you'll need
This diet-friendly recipe is possible with:

Original Lo-Dough Bases
Regular price
from £3.49
Out of stock
Method
Preheat your oven to 220°C/Gas 7.
Spread the passata on the smooth side of your Lo-Dough, spreading right to the edge. Then add your cheese, again, right to the edge.
Top with the pre-roasted spicy veg.
Bake in your oven for 7-10 minutes, or until golden and bubbling. Serve straight away.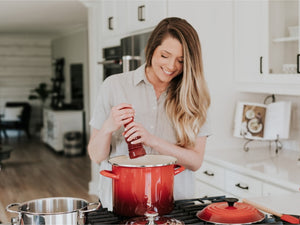 Hungry for more recipes?
Join over 200,000 subscribers in receiving new recipes, tips, offers and a whole lot more.