This low-calorie steak wrap made with Lo-Dough is a real game-changer and is incredibly healthy too. If you love steak but you're watching the calories, this is the recipe for you.
Is there a meat-eater alive who can resist a perfectly cooked steak sandwich? Well, dieting meat-eaters - you no longer need to resist. This is our low calorie, low carb, high protein beauty and tastes every bit as good as it looks.
For a low-fat (slimming) diet, you can spray your steak with a low-cal oil and griddle it to keep the fat down. For a low carb, higher fat diet, you can finish your steak with plenty of butter (restaurant-style!). The choice is yours. Either way, swapping chips or traditional bread for Lo-Dough will keep the calories down! 
Top Tip - For a perfect wrap, roll out your Lo-Dough flat before filling it.
A Low-Carb Recipe
Top tip: If you are on a Keto diet, switch the yoghurt for mayonnaise and maybe lose the onions to shave off a couple of carbs and up the fat.
The ketogenic diet (or keto diet) has been practised for more than nine decades  and is based upon a solid understanding of physiology and nutrition science.
Rather than focusing on low-calorie meals, the keto diet is high-fat with a reasonable amount of protein. Food consumed on a keto diet is very rich and portion control will come naturally. This particular diet takes an entirely different approach to weight loss and improved fitness and nutrition.
Ingredients
Serves 1
1 piece of Lo-Dough
125g of steak (about half a steak)
3 slices of beef tomato
15g of red onion, sliced
2 radishes, sliced
A handful of watercress
Horseradish (ideally fresh, but there are good products available in a jar), finely grated
20g of fat free greek yoghurt
Balsamic vinegar
Spray oil
Salt & pepper
What you'll need
This diet-friendly recipe is possible with:

Original Lo-Dough Bases
Regular price
from £3.49
Out of stock
Method
Season your steak liberally with salt and pepper and fry on a high heat in the spray oil until cooked to your liking. We recommend 3 minutes a side and that it be left it a warm place to rest for approx 5 minutes - this will give you a perfect medium rare.
Roll out your Lo-Dough with a rolling pin until flattened to tortilla thickness.
Arrange the salad ingredients on your Lo-Dough. Add a fine drizzle of good quality balsamic over for a little tang.
Once rested, slice the steak and place over the salad. Mix the horseradish and yoghurt in a bowl and drizzle over.
Wrap up and eat straight away, or wrap up in foil and save for later in the day.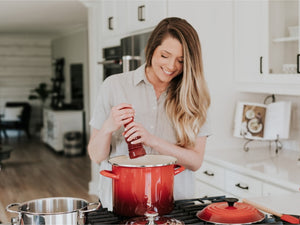 Hungry for more recipes?
Join over 200,000 subscribers in receiving new recipes, tips, offers and a whole lot more.