Add some sticky, gingery warmth to your low-calorie brownies!
Just adding this one ingredient to your brownies will completely change their flavour profile and even their texture! Ginger and chocolate is a great combination and this recipe is so easy to pull together. A little goes a long way, so you won't be upping the carbs too excessively either!
If you don't have any stem ginger to hand, you could try adding a couple of teaspoons ginger spice for a similar (less sugary) flavour. 
Ingredients
Serves 8
1 pack of Lo-Dough Brownie Mix
40-50g of stem ginger in syrup, chopped up into small pieces
5-10g of dark chocolate, melted for drizzling (optional)
250ml of water
What you'll need
This diet-friendly recipe is possible with:
Lo-Dough Brownie Mix
Regular price
£5.59
Out of stock
Method
Make the Lo-Dough Brownie Mix as per the packet instructions, adding the stem ginger into the mix (you can leave a little back for decoration).
Add the mix to your lined tin and bake for 25 minutes at 190C.
Allow to cool and then cut into 8 portions.
Finish by decorating with a drizzle of melted dark chocolate and a piece of stem ginger if desired.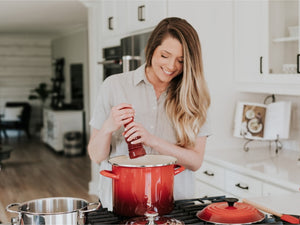 Hungry for more recipes?
Join over 200,000 subscribers in receiving new recipes, tips, offers and a whole lot more.