A Low-Calorie Retro Classic Made With Lo-Dough
Some dishes never go out of fashion and we thought this 80's dinner party favourite was due for a Lo-Dough makeover. By replacing the usual rice, couscous, bulgar wheat, or regular bread often found in a stuffing with Lo-Dough, you massively reduce the calories and (white) carbs of your meal. 
We have chosen to go down the vegetarian route for the stuffed peppers in this recipe and have chosen to take them in a Mediterranean direction in terms of flavour. So think garlic, fennel, tomato, pesto, and almonds as well as a few other flavourings - all topped with Eatlean's delicious, low-fat, protein cheese. 
Getting Value From Your Lo-Dough
It's also an economical use of Lo-Dough - 1 piece (plus the chopped vegetables) will stuff 3 peppers. One of these alongside a side salad will be more than enough for a satisfying and balanced meal. 
Using it as part of a stuffing has given us yet another use for Lo-Dough - and it's one that is delicious, nutritious and full of life. 
Low-Carb Bread, used as a crumb
By blitzing Lo-Dough down to a crumb, you create a new versatile ingredient to cook with - one that is high in fibre and low in carbs and calories. As well as stuffings, you can make dessert cakes, fishcakes, fritters, brownies, bean burgers - the list goes on and on. 
Expand your repertoire of Lo-Dough dishes and give this one a go!
Ingredients
Serves 3
1 piece of Lo-Dough, blitzed to a crumb
3 bell peppers
70g of grated Eatlean protein cheese
50g of white onion, finely chopped
50g of fennel, finely chopped
50g of mushrooms, finely chopped
1 salad tomato, chopped
1 clove of garlic, finely chopped
Half a chilli, finely chopped
A few capers
A teaspoon of fresh thyme, finely chopped
A spoon of red pesto
10g of almonds, chopped
Salt & pepper
10 sprays of oil
What you'll need
This diet-friendly recipe is possible with:

Original Lo-Dough Bases
Regular price
from £3.49
Out of stock
Method
Preheat your oven to 180C/356F/Gas mark 6. Slice the tops of the peppers and remove the seeds. Spray them with a couple of sprays of oil each. Put the tops back on each pepper and place on a baking tray and into the oven to start cooking, whilst you prepare the stuffing.
In a few of sprays of oil, gently fry the onion, fennel, mushrooms, garlic, chilli, capers and thyme. This should take 5-10 minutes until the vegetables are softened.
In a separate bowl, add the blitzed Lo-Dough, half the Eatlean cheese, tomato, almonds and pesto. Add the fried vegetables and mix thoroughly. Top with the remaining cheese.
Take the peppers out of the oven (you can let them cool a little if it helps) and carefully spoon the stuffing into each pepper, packing it down tightly. Place the tops back on and return to the oven. Cook for a further 30 minutes or until the peppers have softened.
Serve with salad of your choice.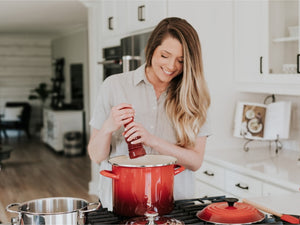 Hungry for more recipes?
Join over 200,000 subscribers in receiving new recipes, tips, offers and a whole lot more.