Enjoy Thai Flavours In A Low-Calorie Wrap
If you like Thai food, but are avoiding carbs, calories and fat for any reason, then this is the way to do it - Make a Lo-Dough wrap! 
Thai food is often characterised by the combination of heady, aromatic flavours - lemongrass, galangal, garlic, chilli, fish sauce, lime leaves - the list goes on. For a quick and easy hit of all those ingredients without having to seek them all out individually, the best bet is to buy a paste - now readily available in all supermarkets - usually in the form of red or green curry paste. 
For this wrap, we have gone with the red paste and marinated and sauced some chicken with it, serving alongside some salad and a few quick garnishes. 
You can cook your chicken especially for this, but we recommend it as a great way of using leftovers - after a Sunday roast would be perfect.
Another Low-Carb, Lo-Dough Meal Idea
The macros are something else: 254 calories, just 7 carbs and a fantastic 21g of protein and 10.3g of fibre -- but trust us, the flavour hold's up just as well!
To make a Lo-Dough wrap, we recommend you roll out your piece of Lo-Dough with a rolling pin, to thin it out and slightly alter the texture more towards a tortilla wrap. You can eat Lo-Dough as it is out of the packet, but we think this one power-move takes your wraps to the next level. 
#makeitwithlodough
Ingredients
Serves 1
1 piece of Lo-Dough
100g of cooked, skinless chicken, broken into bite sized pieces
2 tablespoons of Thai red curry paste
15g of carrot, cut into match sticks
10g of red onion, finely sliced
A small handful of fresh coriander, chopped
A small handful of mixed leaf salad
A little sliced chilli and ginger to garnish (optional)
A squeeze of lime juice
Salt & pepper
What you'll need
This diet-friendly recipe is possible with:

Original Lo-Dough Bases
Regular price
from £3.49
Out of stock
Method
Add your carrots and onions to a bowl and squeeze over the lime juice and add a little salt. Mix well and leave to one side. These will pickle lightly.
Put your red curry paste in a saucepan with a good splash of water and add a little salt and pepper. Bring up to a simmer and add your chicken to warm through.
Use a rolling pin to flatten down your piece of Lo-Dough.
Lay out some salad and the fresh coriander.
When the chicken is warmed through, add on top of the salad and then garnish with your pickled vegetables. Garnish with chilli and ginger if desired. Drizzle over any remaining curry paste from the pan, roll up and serve.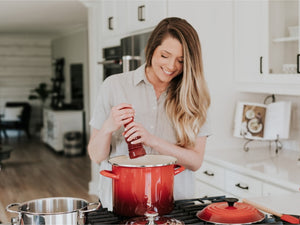 Hungry for more recipes?
Join over 200,000 subscribers in receiving new recipes, tips, offers and a whole lot more.