These incredible Thai fishcakes are low-calorie and incredibly high fibre - a perfect lunch/dinner treat. 
This is a really special dish... beautiful Thai fishcakes - full of hot, sweet, salty and sour flavours alongside simple tinned salmon, spring onions and herbs all held together by blitzed Lo-Dough and an egg - these pack a punch far beyond what their calories would suggest. Thanks to the fibre content, they are incredibly filling too - Where most Thai fish cakes are served as a starter, these could definitely work as part of a main meal.

Try serving alongside a simple salad - maybe with some low-calorie/low-carb noodles (available in most supermarkets) or a simple Asian salad - or both!  
Ingredients
Serves 2
2 pieces of Lo-Dough, blitzed to crumbs
150g tinned salmon, drained well
2 eggs, beaten
Half a red chilli, finely chopped
Half a clove of garlic, finely chopped
1 stick of lemon grass, finely chopped
1 spring onion, finely chopped
A small handful of coriander, chopped
1 cal spray or oil for cooking
Salt & pepper
What you'll need
This diet-friendly recipe is possible with:

Original Lo-Dough Bases
Regular price
from £3.49
Out of stock
Method
Add your all the ingredients to a bowl and mix well. Form into 8 small cakes.
Oil a pan with the spray or oil and on a medium heat, fry the cakes for approx. 3 minutes on each side.
Serve with sides of your choice. We went with low-calorie/low-carb noodles and asian style salad and the whole plate still comes in under 300kcal and 8-9g carbs.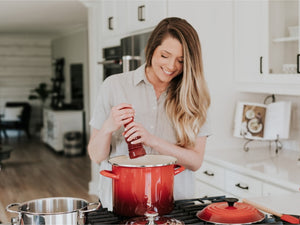 Hungry for more recipes?
Join over 200,000 subscribers in receiving new recipes, tips, offers and a whole lot more.