Tikka Look At This! Low-Calorie Kebabs Are Possible With Lo-Dough
Kebabs made with Lo-Dough are Kebabs reimagined. This incredible, flavoursome vegetarian offering comes in at a remarkable 285 calories and just 9g carbs. 
The spicy tikka marinade takes a couple of minutes to bring together and though we've marinaded paneer cheese - it could just as easily be used for lamb, fish or chicken. 
The key to making it so low in calories and carbs is simply swapping the naan bread for Lo-Dough. By doing this, you slash those numbers meaning you are free to enjoy a delicious, full-flavoured kebab. 
Note: If you can't find paneer, halloumi would work pretty well too!
Ingredients
Serves 1
1 piece of Lo-Dough
100g of paneer cheese
1 tablespoon of tikka curry paste
A few thin slices of white onion
A few leaves of lettuce
A couple of slices of tomato
10g of red cabbage, finely sliced
20g of cucumber, deseeded and finely sliced
A few pomegranate seeds if desired
A small handful of finely chopped fresh mint and coriander
2 tablespoons of natural yoghurt
Salt & pepper
What you'll need
This diet-friendly recipe is possible with:

Original Lo-Dough Bases
Regular price
from £3.49
Out of stock
Method
Roll out your Lo-Dough thinly between two sheets of the paper found in the packet with the Lo-Dough.
Preheat your grill until it is as hot as possible. Leave for a good 10-15 minutes to heat while you get the tikka marinade on the cheese.
Stir one spoon of the yoghurt together with the curry pasta and some seasoning. Skewer the cheese (if desired) and coat in the tikka marinade.
While it cooks, arrange all the salad ingredients on your Lo-Dough. Mix the chopped herbs into the yoghurt.
Once ready, add your paneer kebab and then drizzle with the yoghurt. Add a little chilli sauce if desired. Serve.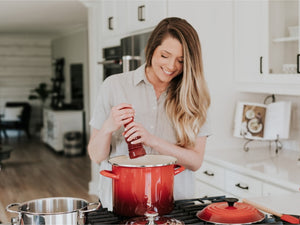 Hungry for more recipes?
Join over 200,000 subscribers in receiving new recipes, tips, offers and a whole lot more.