Check out this light, tasty, low-calorie and low-carb tart
If you're looking for something a little lighter than a pizza, then this tomato and feta tart might just be the dish for you. Sweet caramelised balsamic onions are the base for beautiful oven-roasted tomatoes, then after baking, the whole thing is topped off with feta cheese and fresh herbs. By using Lo-Dough as the base instead of pastry, the carb and calorie savings are enormous. 
Ingredients
Serves 1
1 piece of Lo-Dough
1 medium onion, finely sliced
30ml of balsamic vinegar
30ml half fat creme fraiche
100g cherry tomatoes, halved
A teaspoon of chopped fresh thyme
1 clove of garlic, finely sliced
40-50g of feta
A few leaves of fresh basil
10 sprays of oil
Seasoning
What you'll need
This diet-friendly recipe is possible with:

Original Lo-Dough Bases
Regular price
from £3.49
Out of stock
Method
Preheat your oven to 250°C/475F/Gas 9.
On a tray, roast the cherry tomatoes in the oven for approx. 30 mins, with the thyme and little slices of garlic on top. Once cooked, allow to cool a little.
On a low heat, add 6 sprays of oil to a pan and cook your onions and thyme for approx. 20minutes, stirring occasionally until caramelised and sweet. For the last minute add one table spoon (15ml) of the vinegar and reduce. Once cooked, put in a bowl and stir in the creme fraiche and some seasoning.
Spoon the onion mix onto the Do-Dough and spread around to create a thin, even layer.
Arrange the tomatoes on top and cook the tart in the oven for 10 mins.
Take out of the oven, crumble over the feta and scatter with the herbs. Drizzle with the remaining balsamic and serve.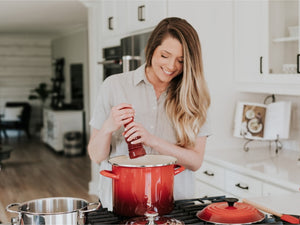 Hungry for more recipes?
Join over 200,000 subscribers in receiving new recipes, tips, offers and a whole lot more.